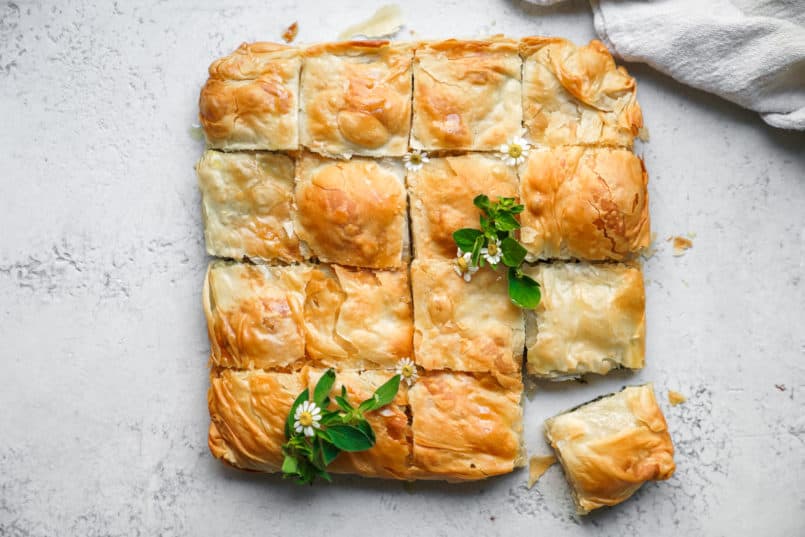 17 May

Spinach + Leek Pie

Have you ever had those delicious little triangle bite-sized spinach pies your mom made for dinner parties? You know the ones, they look super fancy and you probably burnt the shit out of your mouth because you didn't wait for them to cool down. That was basically my childhood, me eating my mom's homemade spanakopita (Greek spinach and feta pies) straight out of the oven! Needless to say, I have a very high threshold for piping hot food. Also, needless to say, I have taken my love for my mother's spanakopita and put my Food By Maria vegan spin on it!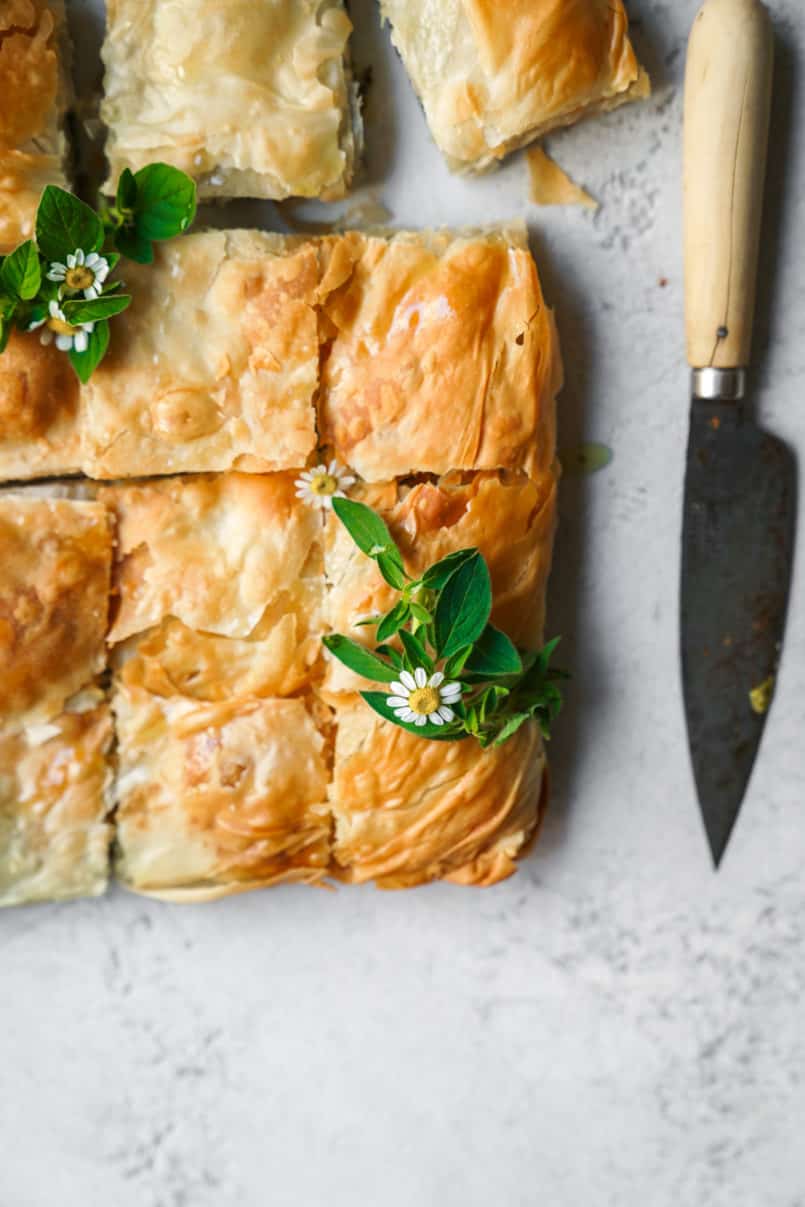 Spanakopita: A Love Story
My love for spanakopita runs deep in my Greek veins! I could eat it all day every day. Unfortunately, the traditional mix of feta, eggs, and phyllo pastry doesn't fall in line with my plant-based lifestyle. Fear not, this recipe is healthy, easy to make, and totally VEGAN! The spinach and leak filling is the most time consuming so you can always make it in advance and freeze it for a later date. When it's time to cook the options are endless. I made a few different version, swirling the vegan phyllo pastry, making a more traditional pie, and might try more of a rustic tart style next time I make it.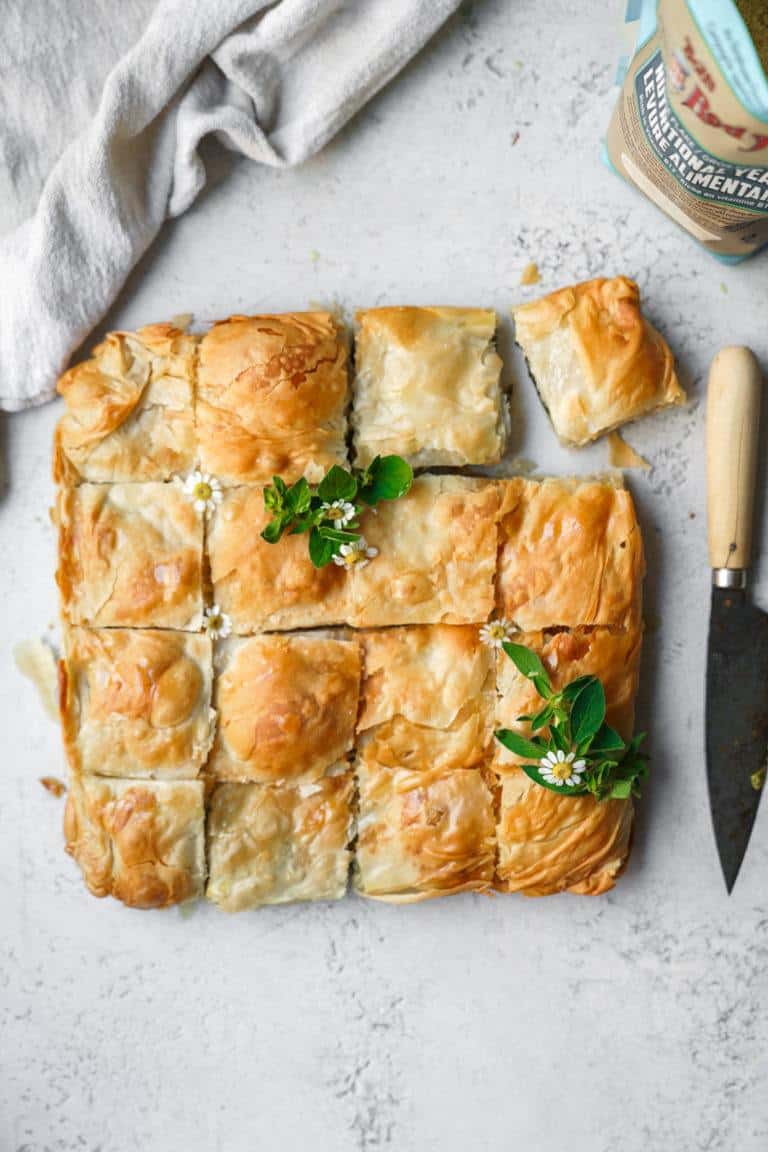 NOOOOOOOCH
I'm going to let you in on a little secret, I put nooch (also known as nutritional yeast) on pretty much everything! Okay, I know that's not a secret, I tell everyone about my obsession with nooch. It is just a vegan's best friend, packed with so many essential vitamins and minerals how can you not mix it into every recipe. My pantry is literally stocked with a few jars of this stuff from Bob's Red Mill. Why do I love this stuff, let me tell you:
It's a complete protein
Nooch is jammed packed with B vitamins (essential for plant-based eaters)
It contains trace minerals like zinc, selenium, manganese, and molybdenum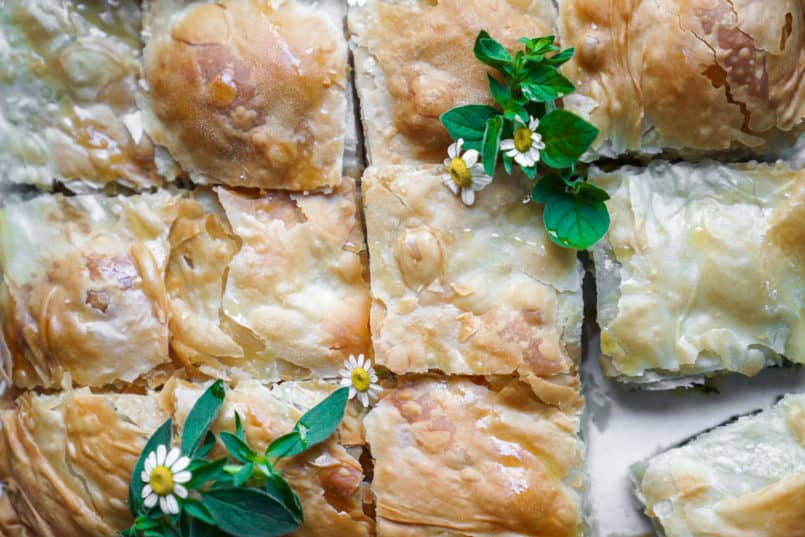 Let's Get Dipping
If you make little mini pies or one big one I highly suggest making some vegan tzatziki for dipping. I have a vegan version you can find in my cookbook 😉 For some other Greek-inspired dishes to go with your spinach and leek pie be sure to try out my other recipes:
One bowl to mix spinach and leek filling, one vegan phyllo pastry, and you've got yourself a deliciously easy meal. Check out the recipe below and don't forget to let me know what you think over at @foodbymaria! Tag #foodbymaria and #fearnotfoodisyourfriend so I can see all your beautiful recreations.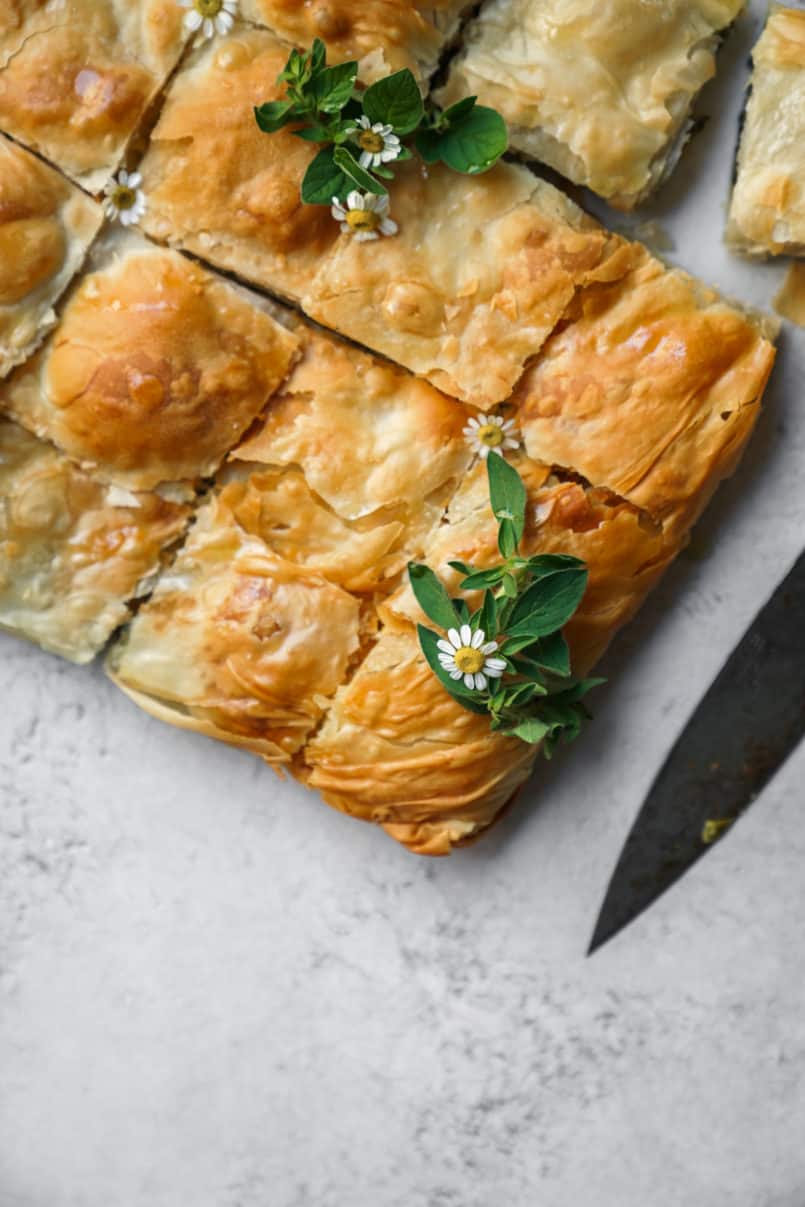 Print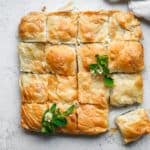 Spinach + Leek Pie
Prep Time:

45 mins

Cook Time:

45 mins

Total Time:

1 hour 30 mins

Yield:

6

Category:

Main Dishes

Cuisine:

Vegan
---
Ingredients
2 tbsp. olive oil + for your phyllo
1 medium white onion, finely chopped
2 1/2 cups leak, finely chopped
1 1/2 cups green onion, finely chopped
season to taste
1 cup fresh dill
1 cup fresh parsley
1/2 cup fresh mint
1/4 cup nutritional yeast
2 tbsp. vegetable stock paste
900 g fresh spinach
2 sheets vegan puffed pastry or 1 packet vegan phyllo
---
Instructions
1. The night before making your Spanakopita make sure to remove your phyllo or puffed pastry from the freezer. Let it thaw in the fridge.
2. Into a large pot heat your olive oil on medium heat for around 30 seconds, add your onions and leak and sautéed till caramelized and golden brown. Stir often to avoid burning. Once your onions and leaks are ready, around 10 minutes later, add your green onions, dill, parsley, mint, nutritional yeast, seasoning and veg stock paste. Cook for around 2 minutes or until wilted considerably. Now add your spinach, stir till wilted – you want to cook this down till there is no moisture left. Once your spinach is ready, remove from heat let cool for around 10 minutes.
3. Preheat the oven to 425F and set aside a baking sheet.  Now we will prepare our phyllo. Have your ¼ cup olive oil ready with a brush to gently coat your phyllo.  You want to keep your phyllo moist so I suggest laying it out flat then covering with a damn cloth.
4. Onto another cutting board begin by gently placing one sheet of phyllo. This is a very delicate ingredient, so be patient. Coat the whole thing with olive oil, using your brush then repeat that step with another sheet, for 5 layers total. Transfer your Phyllo to an 8×8 pan and pat down till flat, letting any edited hang over.  Transfer your cooled mixture to the pan and flatten with a spoon, don't down any hanging phyllo bits.  Repeat the steps for the top 5 layers of phyllo and fold layers inward for neat, sleek look.
6. Place in freezer for 1 hour before baking.
7. Once the pan has cooled, place onto baking sheet and brush with olive oil just one more time. Bake for 40 minutes or until golden brown and perfectly crispy!
Enjoy!
---
Notes
Mixture is great in Spanakopita, Phyllo Rolls and Calzones.  Can be made ahead of time and frozen.  Lasts up to one week in the fridge before consuming.
Phyllo Pie lasts up to one month, uncooked and frozen in the freezer.
TIP: always cook your phyllo dough and puffed pastry from frozen for the best outcome!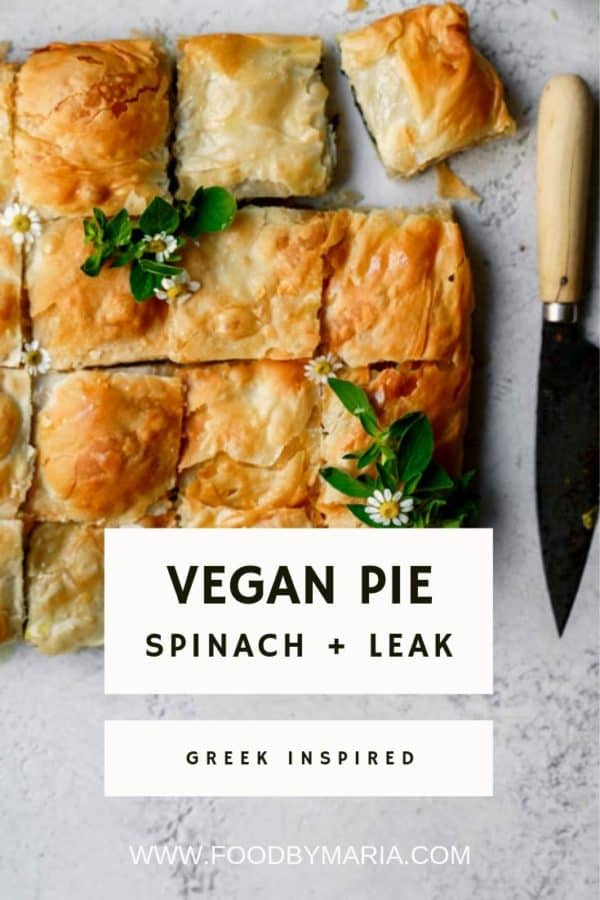 Disclaimer: This post was sponsored by Bob's Redmill