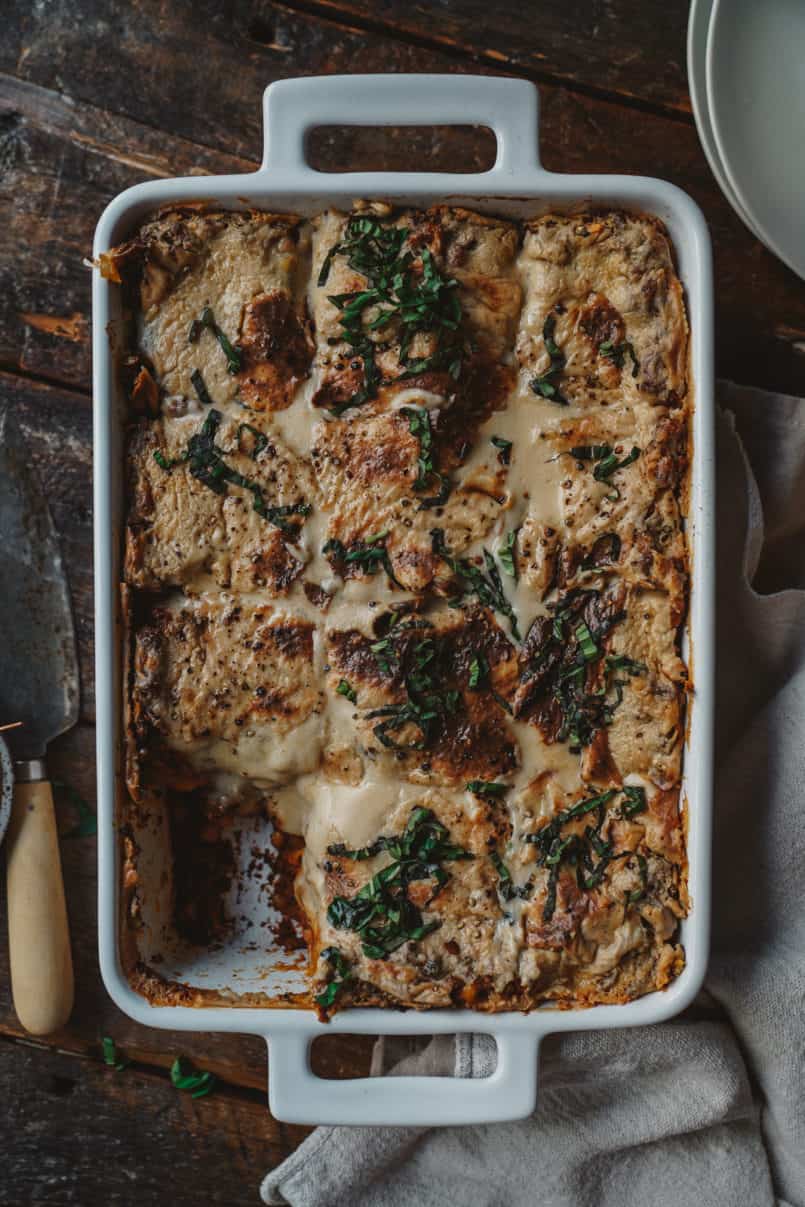 28 Mar

Creamy Pesto Tomato Lasagna

I've been traveling a lot these past few months for work, which means I have been eating out a lot. Each city has its own unique list of must visit places and inspiring new dishes to try. It has been so much fun but I must admit there is something so nice about being at home and eating some good old fashioned comfort food. This yearning for something familiar is what inspired this warm and creamy, pesto tomato lasagna. Sometimes a girl just needs a bowl of cheesy carbs!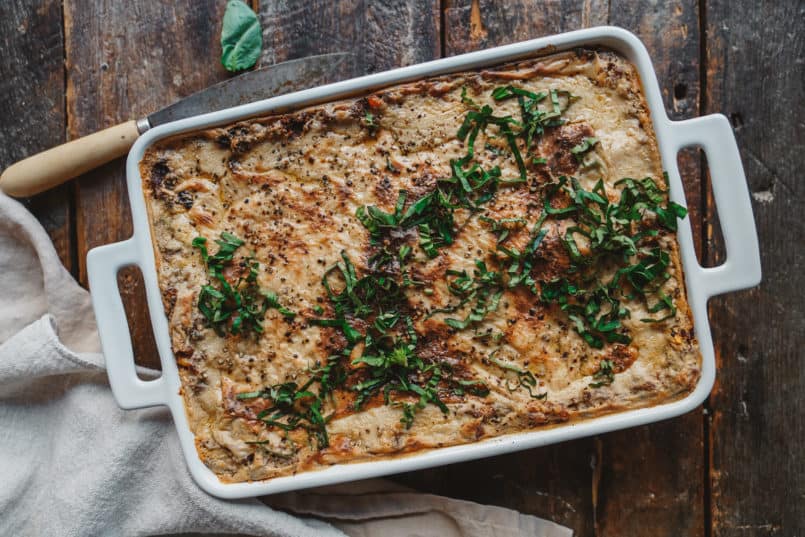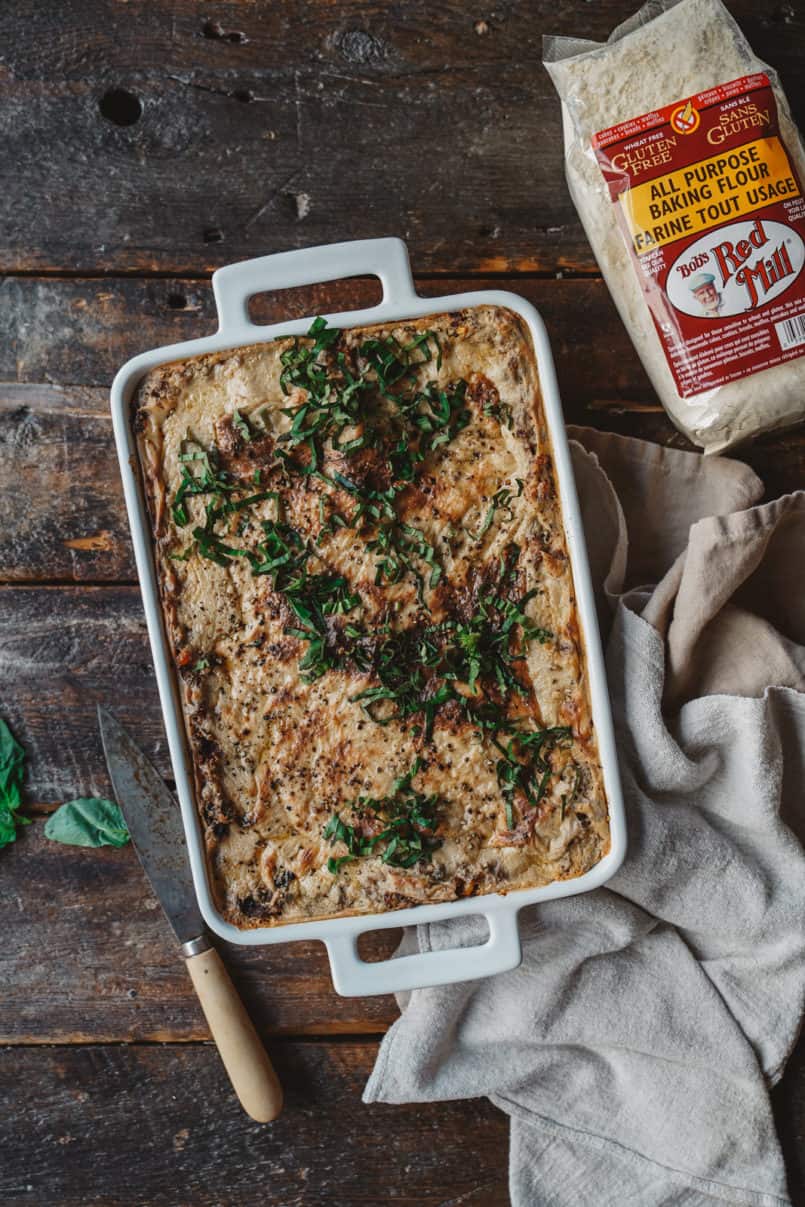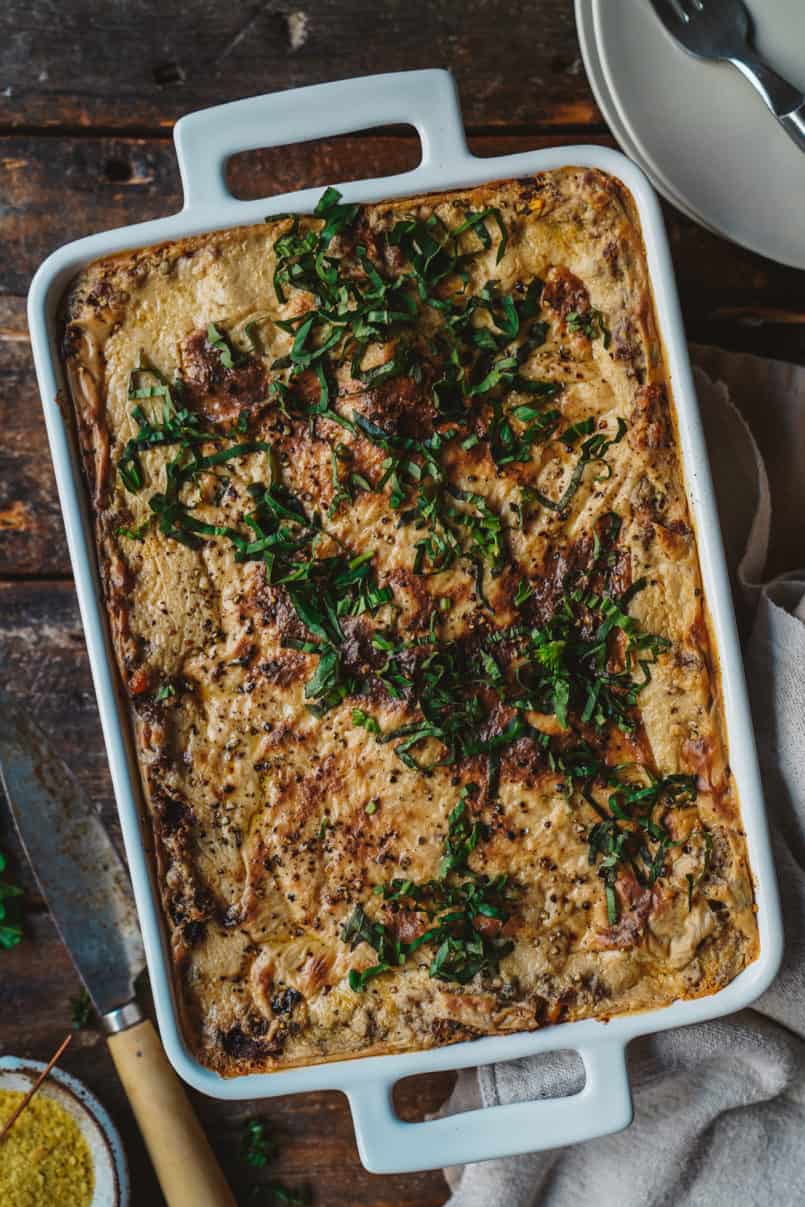 The Many Layers of Lasagna
You know I am all about taking a traditional dish and putting my own spin on it right? Well, when I decided I wanted to make my own version of a lasagna dish I wasn't really sure where to start. Lasagnas can be pretty complex with multiple steps and ingredients. Don't get me wrong the reward is always worth the work, who doesn't love a homemade lasagna. But I wanted to create a plant-based version that was super simple while still giving you all the baked pasta goodness you've come to love.
To achieve this, I went with two different fillings:
A red sauce, made with a cannellini beans and pesto
A bechamel, made with nutritional yeast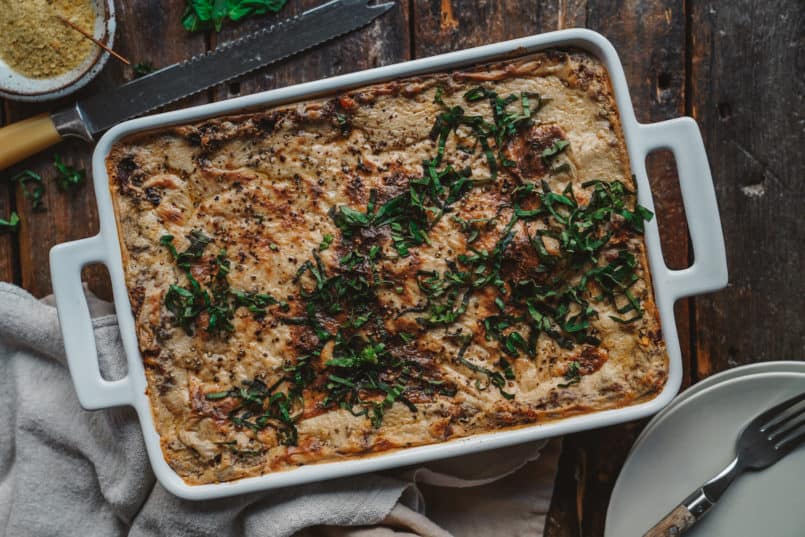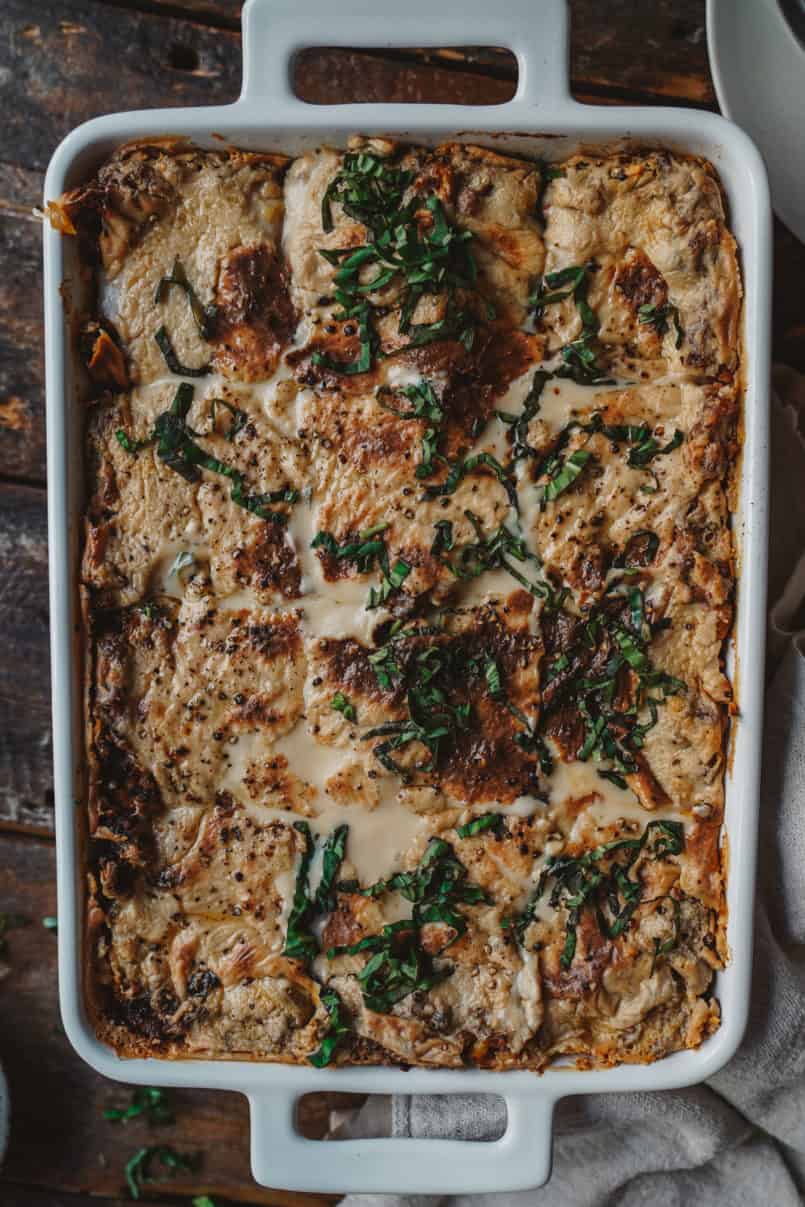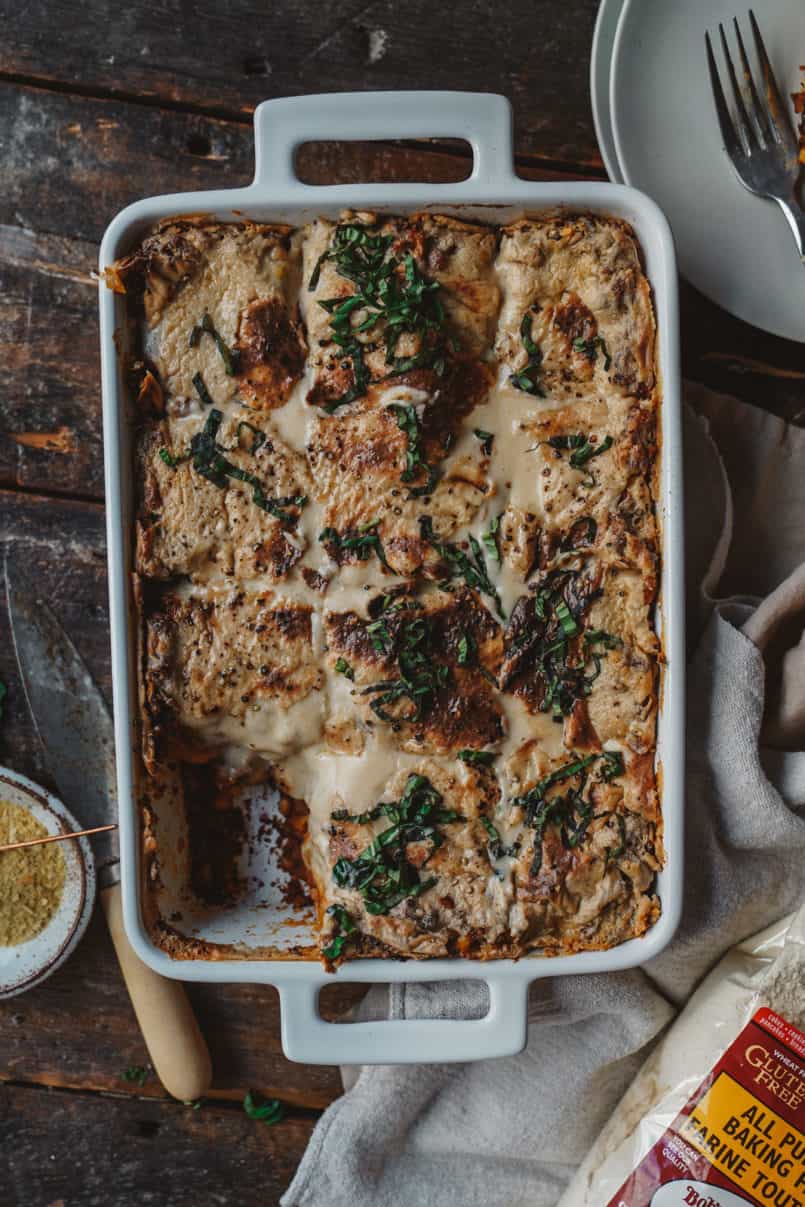 Cannellini Beans
For the first sauce I wanted to include cannellini beans. These white beans are sometimes referred to as white kidney beans and are super popular in Italian cuisine. They are a great addition to any recipe as they soak up spices and flavors of the dish. I really like using them in my vegan and plant-based recipes because they also make a great meat substitute. Cannellini beans are bursting with protein, iron, vitamins, and a long list of minerals:
phosphorous
copper
calcium
potassium
molybdenum
manganese
I always have a package from Bob's Red Mill in my pantry because they are such an easy addition to any recipe and quick way to make sure I'm getting that extra kick of nutrition in my diet.
 
Cheesy Bechamel
The bechamel in this dish is a vegan version made with vegan butter, all-purpose flour, almond milk, nutritional yeast, vegan cheese and seasoning. The word might sound fancy but a bechamel is a super basic base for most sauces and in this case a white cheese sauce. I wanted to use this for the other layer in the lasagna to give you that creamy, gooey, cheesy flavor. Again, I used Bob's Red Mill Nutritional Yeast for that yummy umami taste and not to mention the mega punch of protein. This bechamel is deliciously simple and could actually be used for lots of other pasta sauces too, so feel free to experiment with the seasoning and mix up the flavors. For more pasta recipes be sure to check out: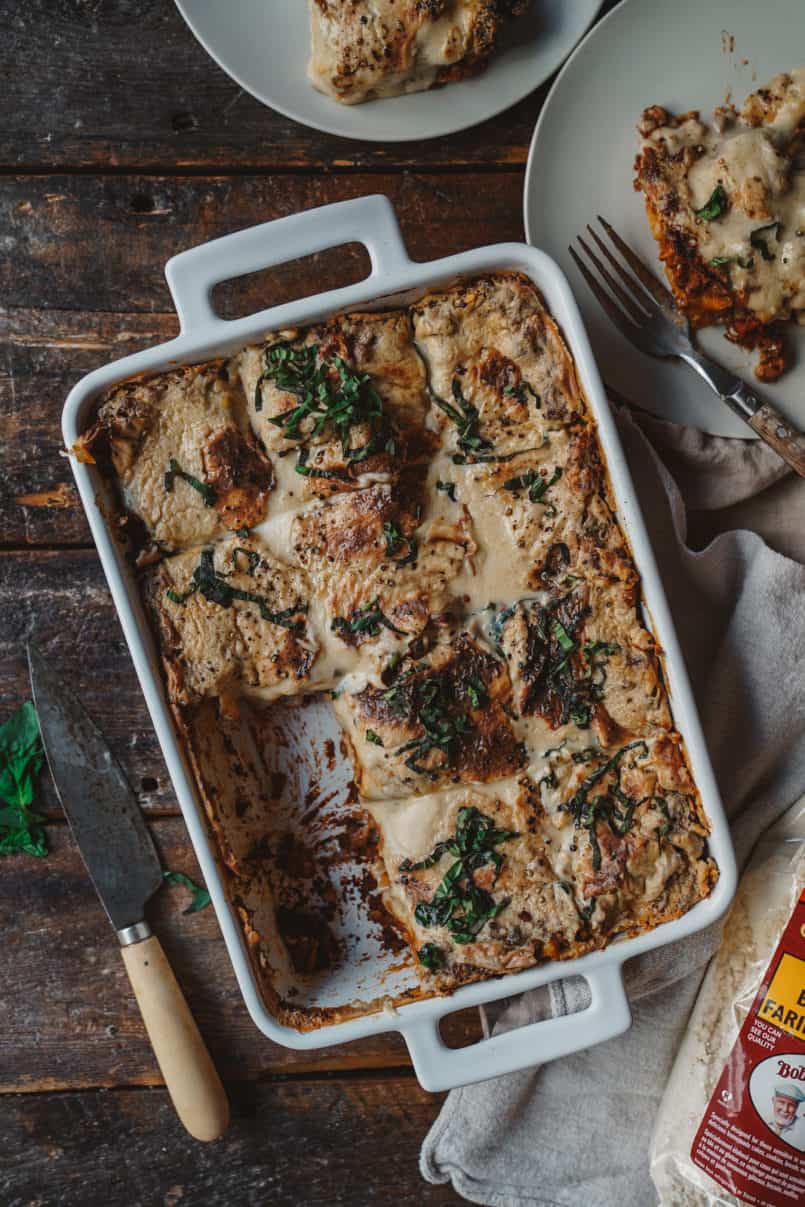 When you are craving a home cooked comfort in a casserole dish look no further than this creamy pesto tomato lasagna. It is high in protein, easy to make, and even easier to have more than one piece. Check out the recipe below and don't forget to let me know what you think over at @foodbymaria! Tag #foodbymaria and #fearnotfoodisyourfriend so I can see all your beautiful recreations.
Print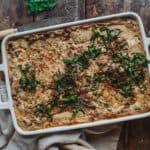 Creamy Pesto Tomato Lasagna
Author:

Prep Time:

10 minutes

Cook Time:

1 hour 55 minutes

Total Time:

2 hours 5 minutes

Yield:

12

Category:

Main Dishes

Cuisine:

Vegan
---
Ingredients
For the Red Sauce:
2 tbsp. olive oil
1 medium sized, sweet white onion, finely chopped
4 large cloves of garlic – minced
1 799 ml can of whole tomatoes, use your hands to crush
1 cup of water
1 1/2 heaped tbsp vegan pesto
season to taste
1 tbsp. dried thyme
1 tbsp. dried parsley
1 tsp cinnamon
1/2 tsp cloves
2 cups cooked cannellini beans – I used Bob's Red Mill
2 cups vegan ground round – if you don't have this use beans
For the Bechamel:
3 heaped tbsp. of vegan butter
3 tbsp. all-purpose flour – I used Bob's Red Mill
2 tbsp. nutritional yeast – I used Bob's Red Mill
2 1/2 cups almond milk
1 cup vegan cheese – I used Mozzarella
season to taste
dash of lemon
15 lasagna sheets
garnish with fresh basil
---
Instructions
Into a deep large pot add your olive oil and heat for a few seconds before adding your onions.  Sautee on medium heat for 5 minutes or until translucent and then add your garlic.  Cook for another 2 minutes before adding the rest of your ingredients.  Give everything a good mix, bring to a boil then simmer on low with lid on for 1 hour.  During this time you can either relax or make your bechamel!
For the bechamel, melt your butter on low heat in a medium sized pot.  Once melted, add your flour, stir till a ball or more lumpy consistency appears.  Add your nutritional yeast and stir more.  Now, slowly add your milk and whisk aggressively while cooking on medium-high heat.  Stir till you've added all your milk and a more silky smooth sauce comes together.  Add your cheese, reduce heat and stir – this may take 2-3 minute to melt depending on your vegan cheese.  At the last minute season to taste and add a dash of lemon.  Remove from heat and set aside.
Preheat oven to 375F and line a baking sheet with parchment.
To assemble your lasagna simply add 1/4 of your red sauce into the base of a 8×8 baking dish and distribute evenly .  Then place 1 layer of lasagna sheets and repeat with 1/4 of your sauce till your top layer (red sauce should be the last layer), note: leave yourself an inch for the white sauce.  Using a ladle, ladle the white sauce onto the lasagna and using a spoon to smooth to the edges.  Place baking dish onto baking sheet and cover with foil and bake for 35 minutes covered and 20 minutes uncovered.
To serve, garnish with basil! That's it!
---
Notes
This will last in the fridge in a tight sealed container for up to one week.
The sauce is freezer friendly.  Just store in a air tight container. Will last up to 1 week in the fridge.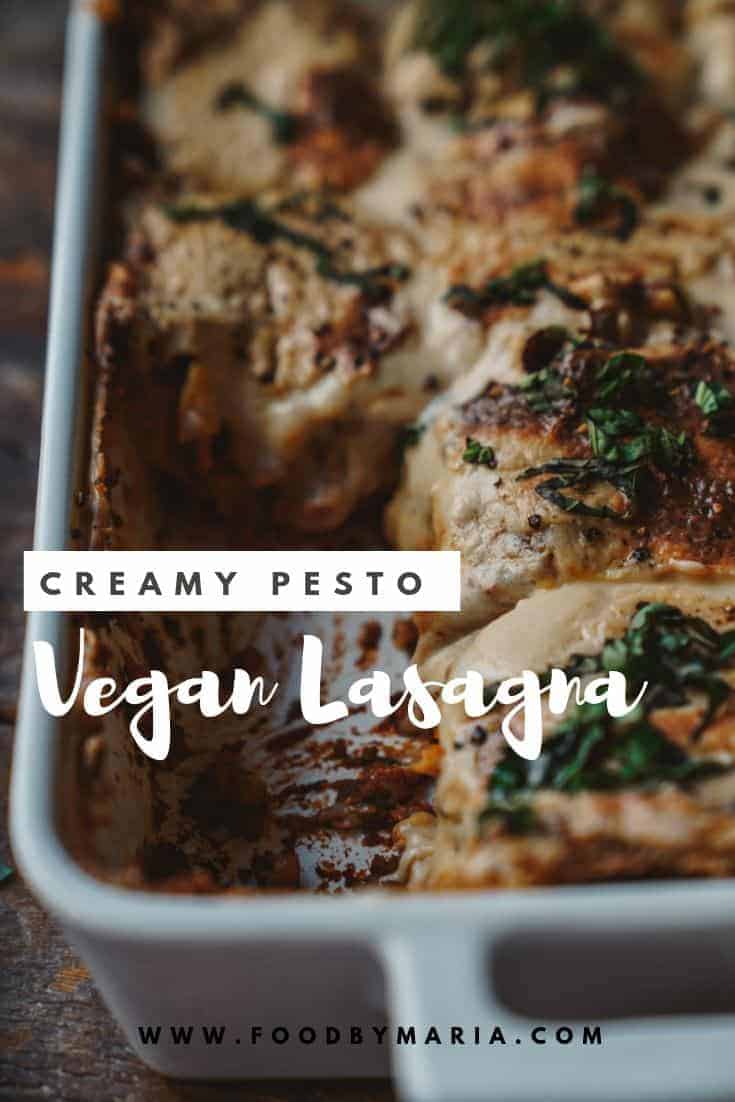 Disclaimer: This post was sponsored by Bob's Red Mill