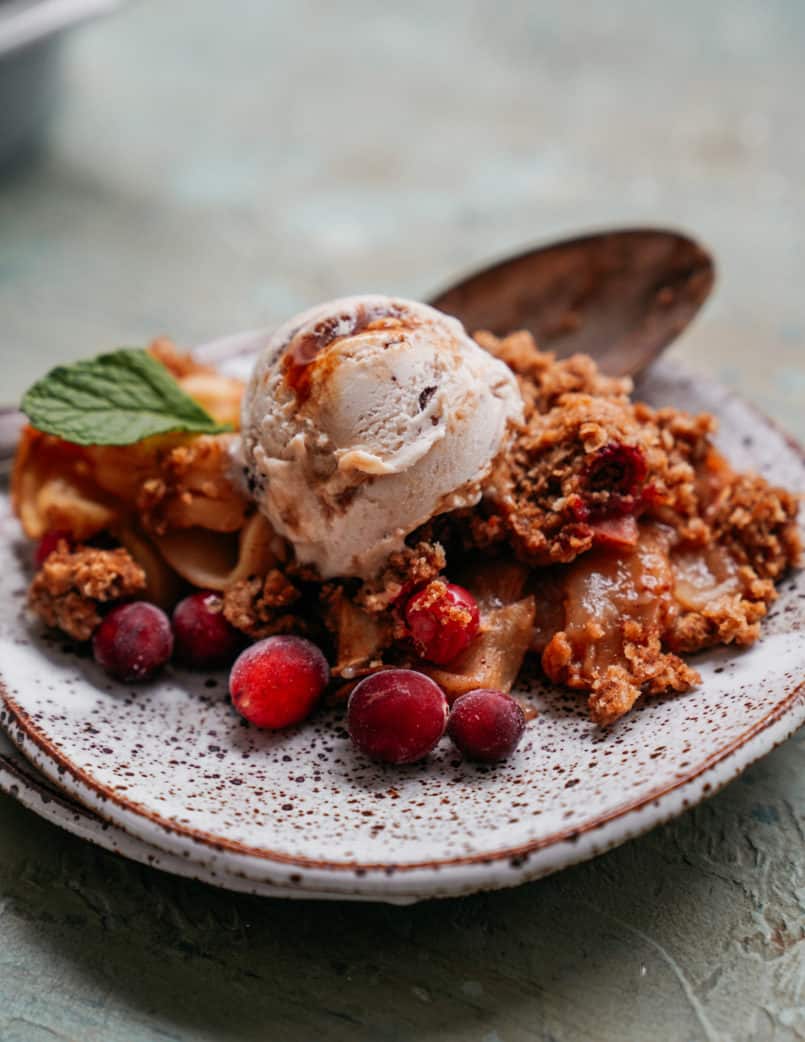 19 Mar

Simple Spring Cranberry Apple Crisp

Spring is in the air and this girl couldn't be happier! I love the changing of the seasons, I find it so inspiring. The warming weather has me craving different foods and the longer brighter days give me more energy for creating. This cranberry apple crisp is super simple and very Spring inspired. The tart cranberries are beautifully balanced with fresh apples and will hit that warm crunchy sweet spot thanks to the oat crisp crumble.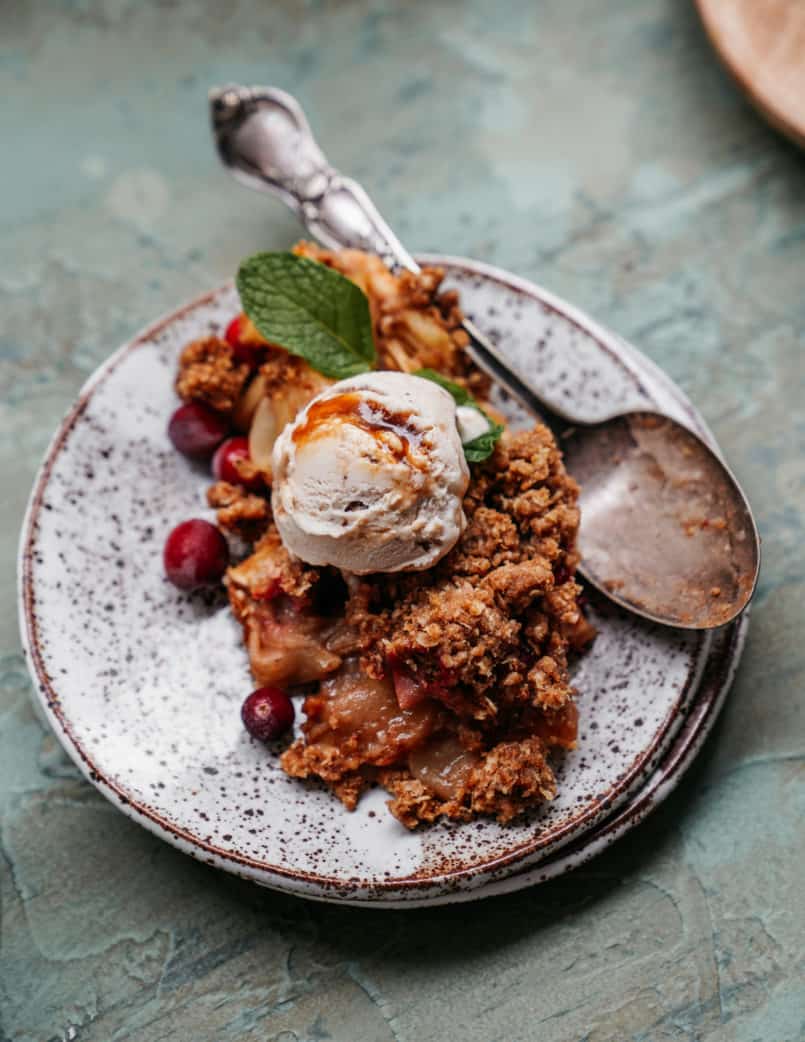 Eating Local
Humans are naturally drawn to fruits and vegetables that are local and in season because these foods are nutrient dense and full of flavour. Have you ever eaten a tomato fresh off the vine? GAME CHANGER PEOPLE! Local food has takes a shorter trip to get on your plate, which means it was harvested at the right time and saved on the ol' CO2 omissions. Whether fresh or frozen, eating local produce is better for the environment and better for you.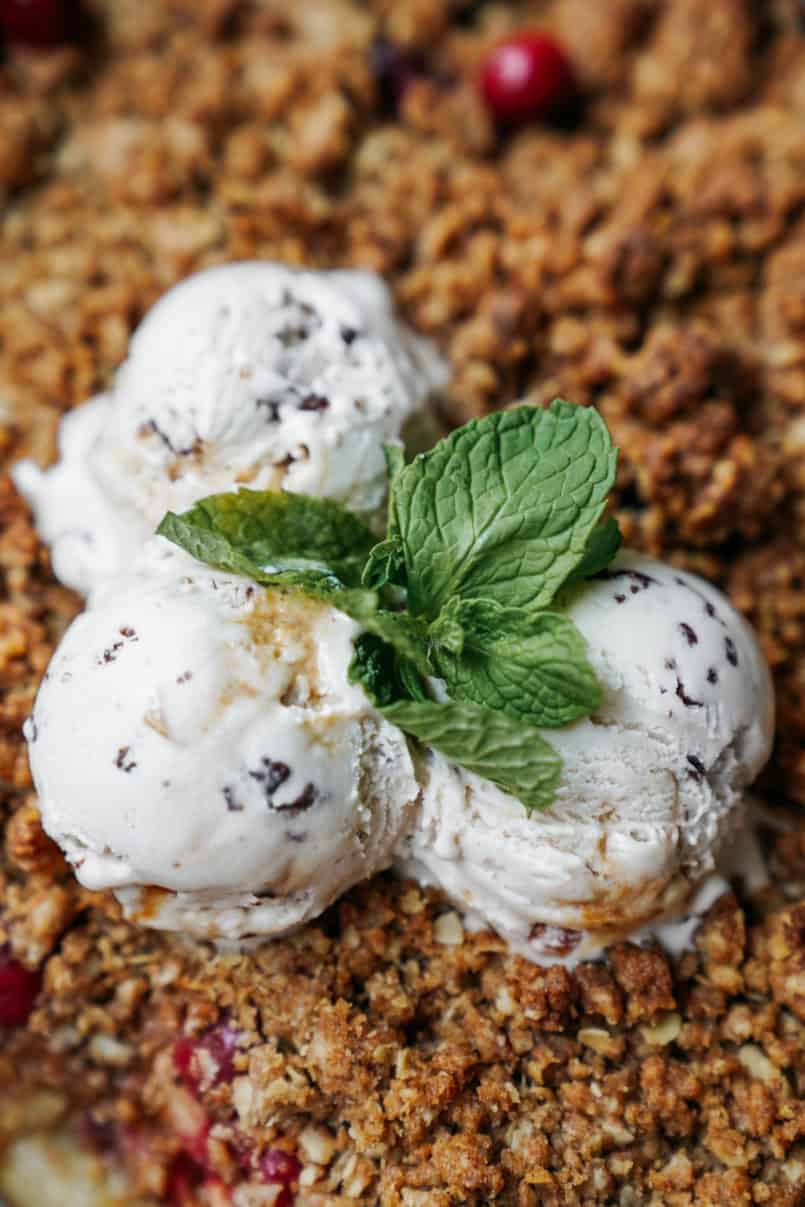 Cranberries For Your Health
Cranberries aren't just for Thanksgiving; these bright and tart little berries are super good for you and are grown right here in Canada. They come from the berry family so you can be sure they are high in vitamins and antioxidants, but what makes cranberries extra special is they are actually low in sugar. For this recipe I used organic frozen cranberries from Patience Fruit & Co. Cranberries are also a healthy snack and have some wonderful health benefits:
UTI (urinary tract infection) prevention and treatment
Support post-menopausal health
Improve heart health
Supporting digestion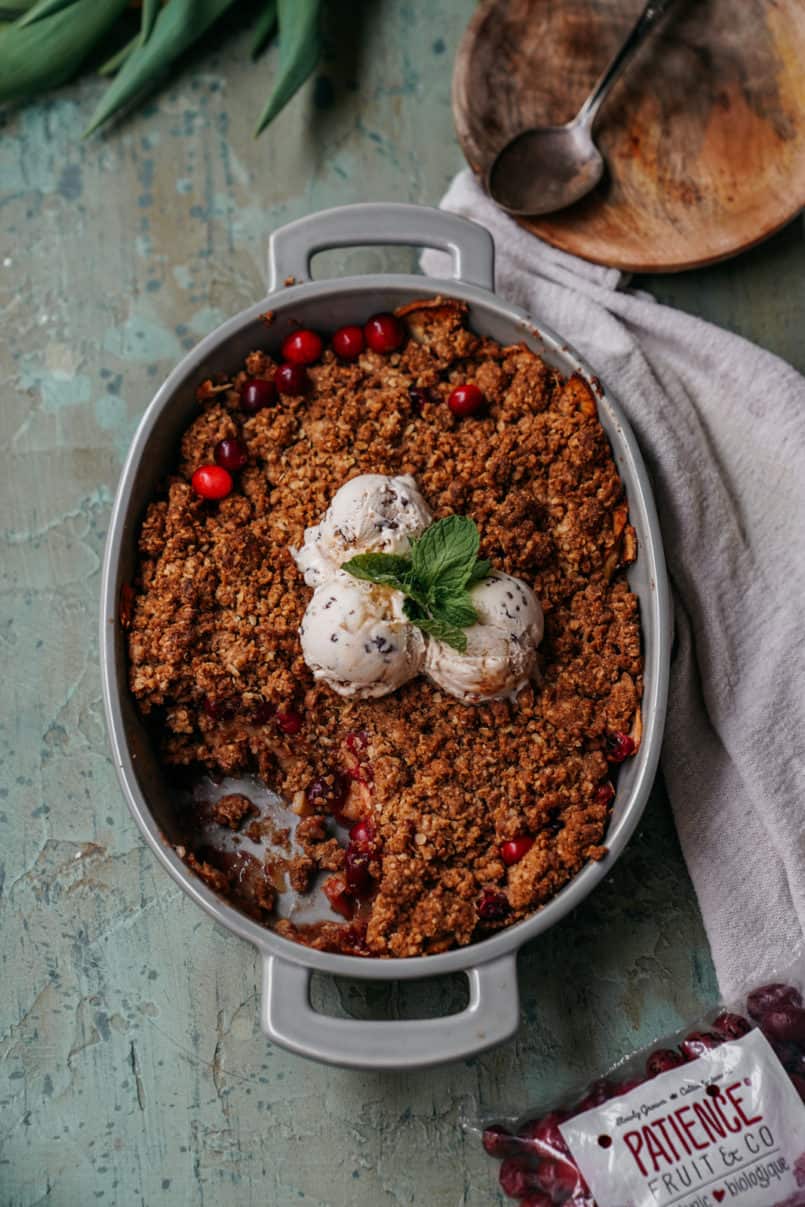 Spring Dessert
This Cranberry Apple Crisp is super simple to make, you can check out my Instagram highlights to see how I made it step by step. I finished my crumble with some ice cream and mint because I will take any excuse to have ice cream. As we get further into Spring you could try mixing in different fresh fruit like cherries or other mixed berries. Since the cranberries come frozen you can save them and add into the crumble with whatever fruit you have on hand. This fresh Spring dessert is perfect for family gatherings or dinner for two at home on a weeknight.
For more delicious recipes inspired by the Spring weather, make sure to check out my: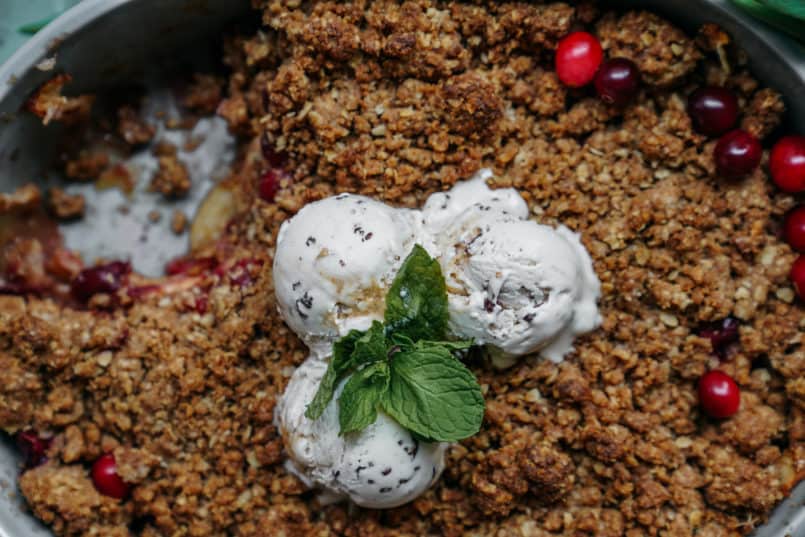 Check out the recipe below and don't forget to let me know what you think over at @foodbymaria and below in the comments! Tag #foodbymaria and #fearnotfoodisyourfriend so I can see all your beautiful recreations. Also, be sure to save to your Pinterest board for safe keeping;)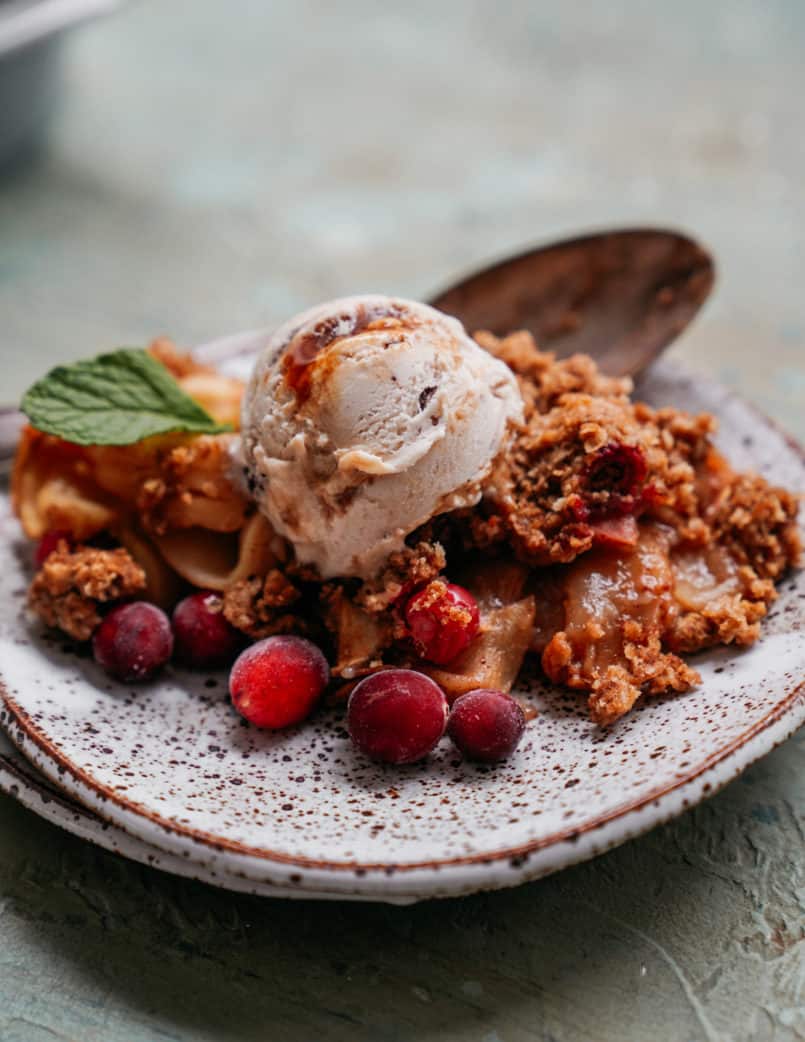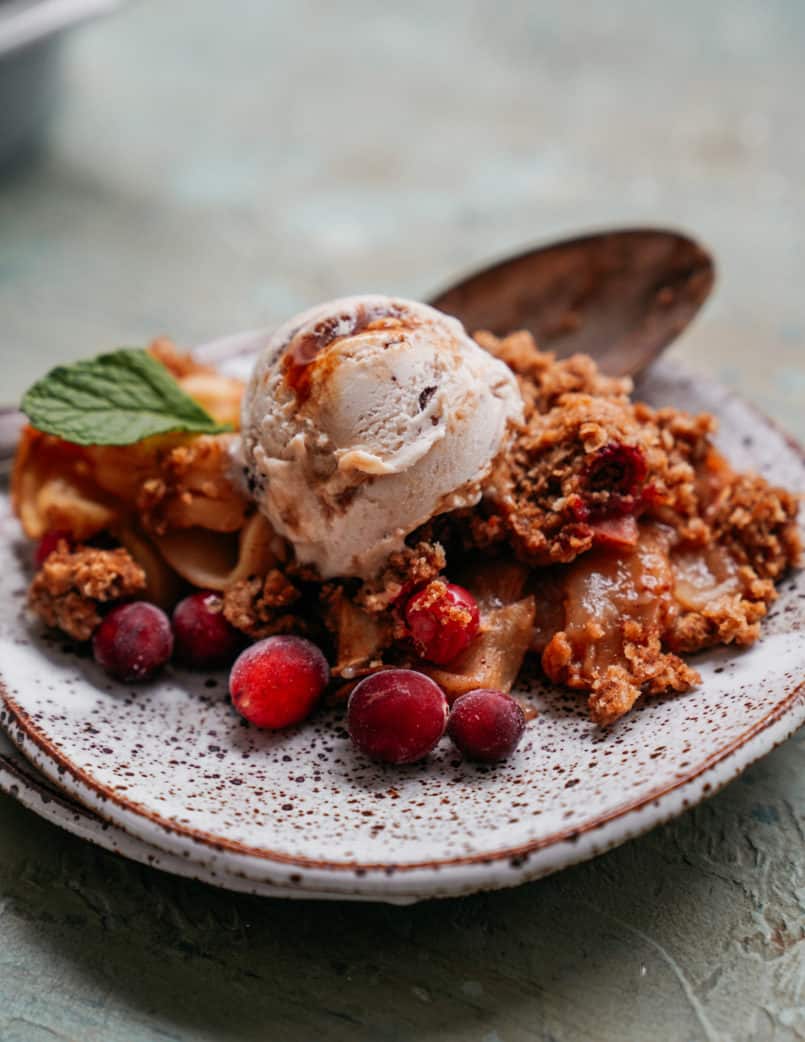 Print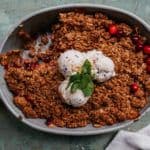 Cranberry Apple Crisp
Author:

Prep Time:

25 minues

Cook Time:

50 minutes

Total Time:

1 hour 15 minutes

Yield:

12-16

Category:

Sweet Treats

Cuisine:

Vegan
---
Ingredients
For the filling:
7 honey crips apples, cored, peeled and cut into 1/8 " slices
2 cups frozen cranberries – (I used Patience Fruit & Co.)
1 cup dark brown sugar
1/4 cup all-purpose flour
1 tbsp. finely grated orange zest
3 tbsp. fresh orange juice or a dash of lemon juice
1 teaspoon ground cinnamon
For the Oat Crumble:
1 cup all-purpose flour
1 cup old-fashioned oats
1 cup dark brown sugar
1 1/2 tsp.  vanilla extract
3/4 tsp baking powder
1 tsp  ground cinnamon
pinch of  salt
1/4 tsp nutmeg – optional
3/4 cup unsalted vegan butter, cut into pieces, room temperature
---
Instructions
To make the crumble. 
Mix all your ingredients apart from the butter into a bowl till well combined.  Add butter and mix with your hands until large clumps form.  Freeze for 30 minutes or until your done with your filling.
To make the filling:
Combine all your ingredients into a large mixing bowl.  Stir well and let sit for up to 15 minutes.
To bake the crisp:
Preheat your oven to 350F.  Grease your baking dish of choice lightly and place onto a cooking sheet to avoid oven splatter or dripping.
Give your filling one last toss before adding to your dish, you want this to be quite dry so leave any excess juices behind.  Top your filling with crumble, mounding if need be. Feel free to have large or small clumps for fun texture and crispness!
Bake for one hour or until your topping is golden brown and bubbling throughout. Transfer to a wire rack and let cool for 15 minutes before serving with some ice cream and a garnishing of mint.
---
Notes
Crumble can be made 1 week ahead just be sure to cover and freeze.
Leftovers last in the fridge, in a tight sealed container for up to one week.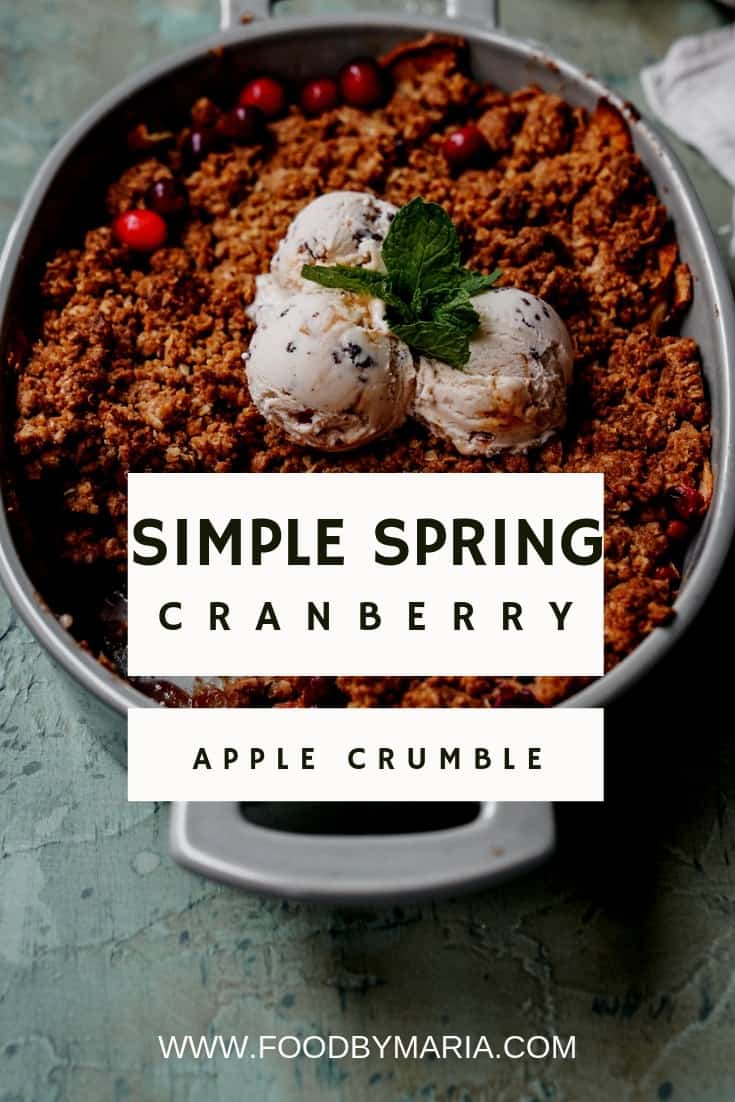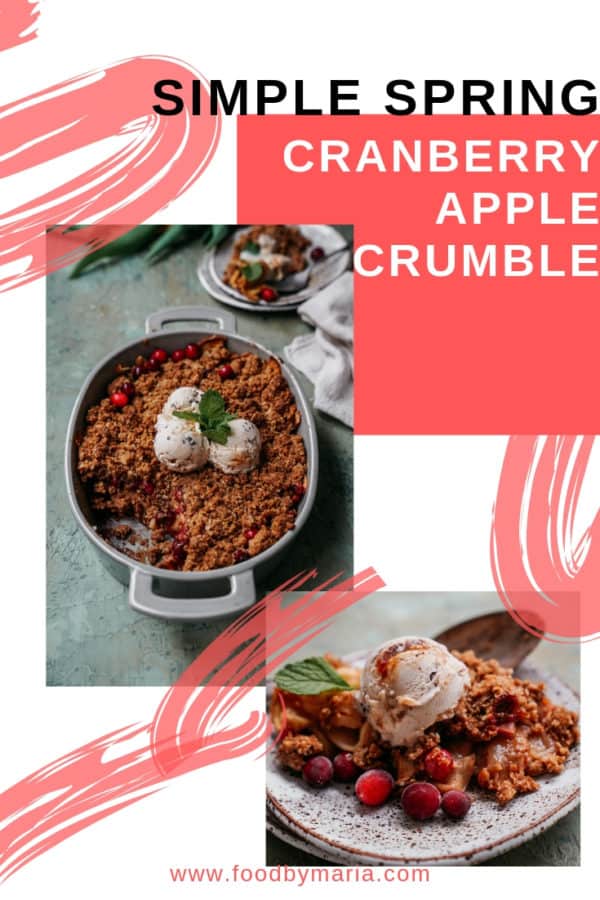 Disclaimer: This post was sponsored by Patience Fruit & Co.