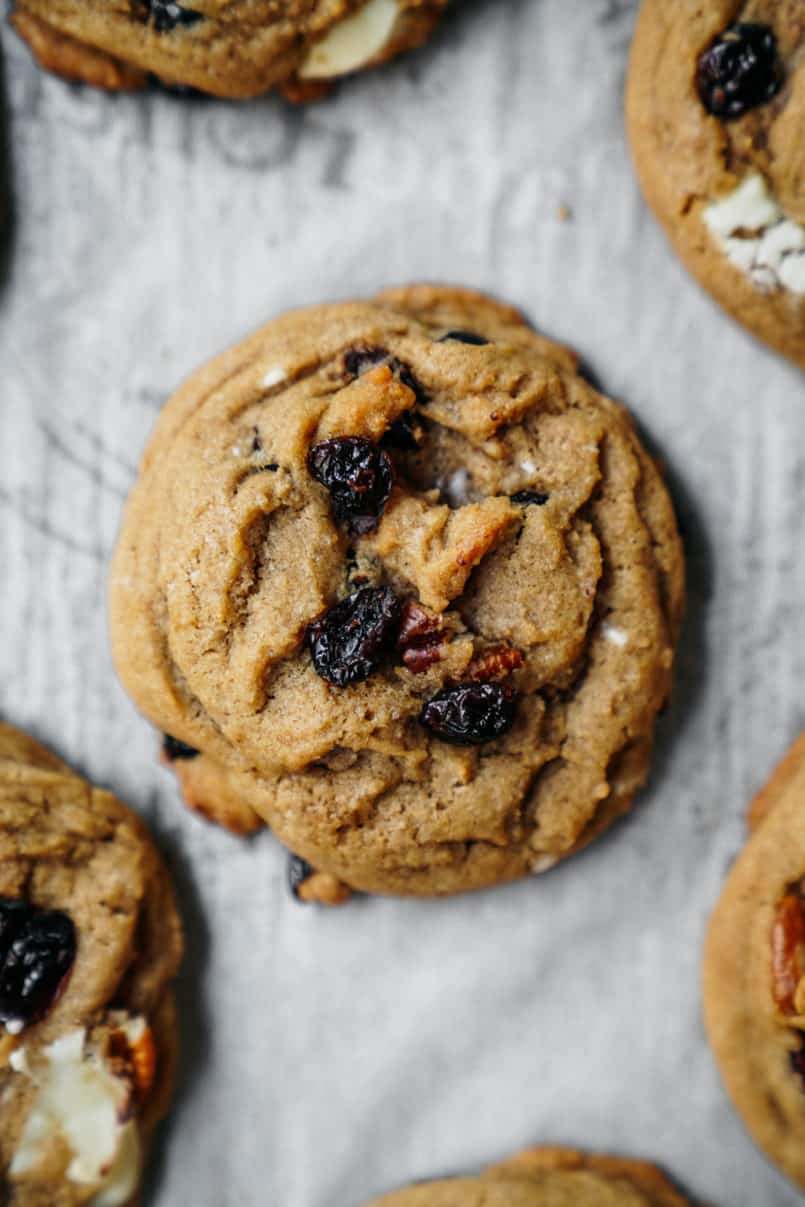 21 Feb

One Bowl White + Dark Chocolate Chip Cranberry Cookies

Looking for the perfect gooey, chewy, plant-based cookie? What if I told you it's also super easy and quick to make, with all the ingredients going into one bowl! Well friends, let me introduce you to my one bowl white and dark chocolate chip cranberry cookie. If that name isn't enough of a mouth full, you can bet your mouth will be full of cookie by the end of this post.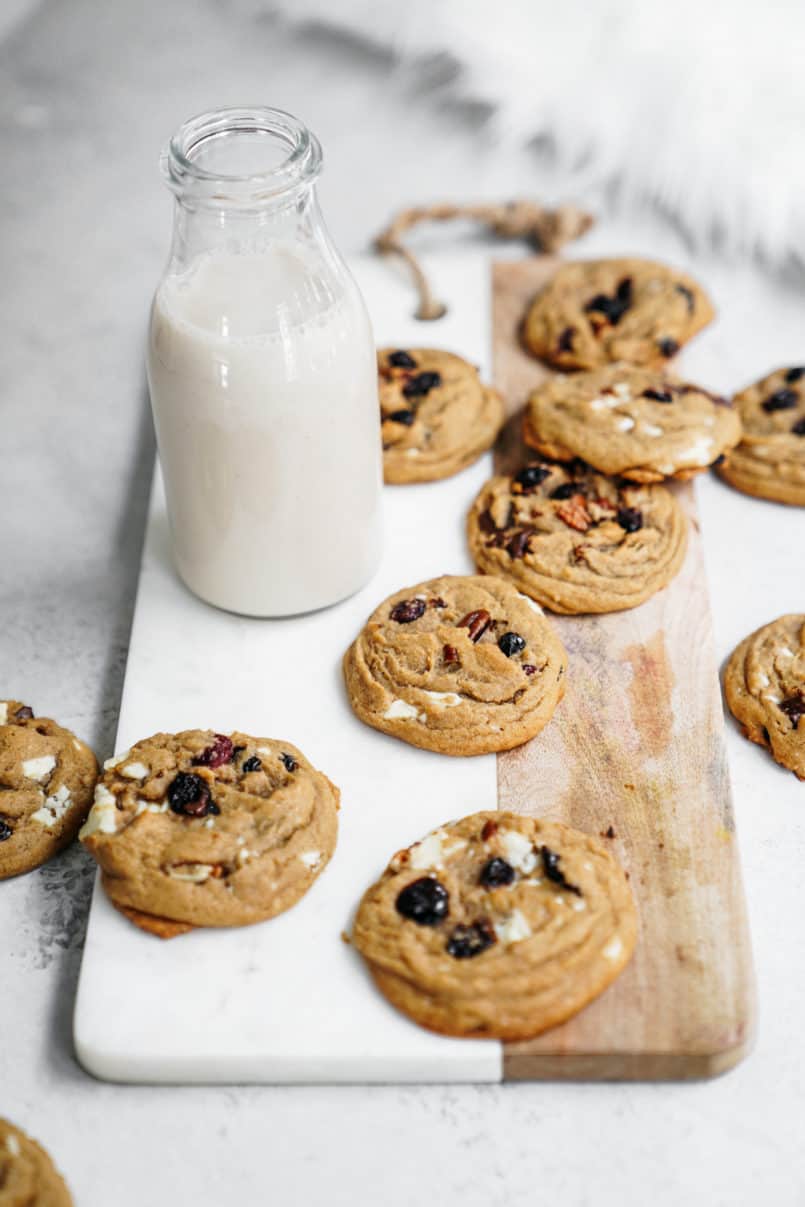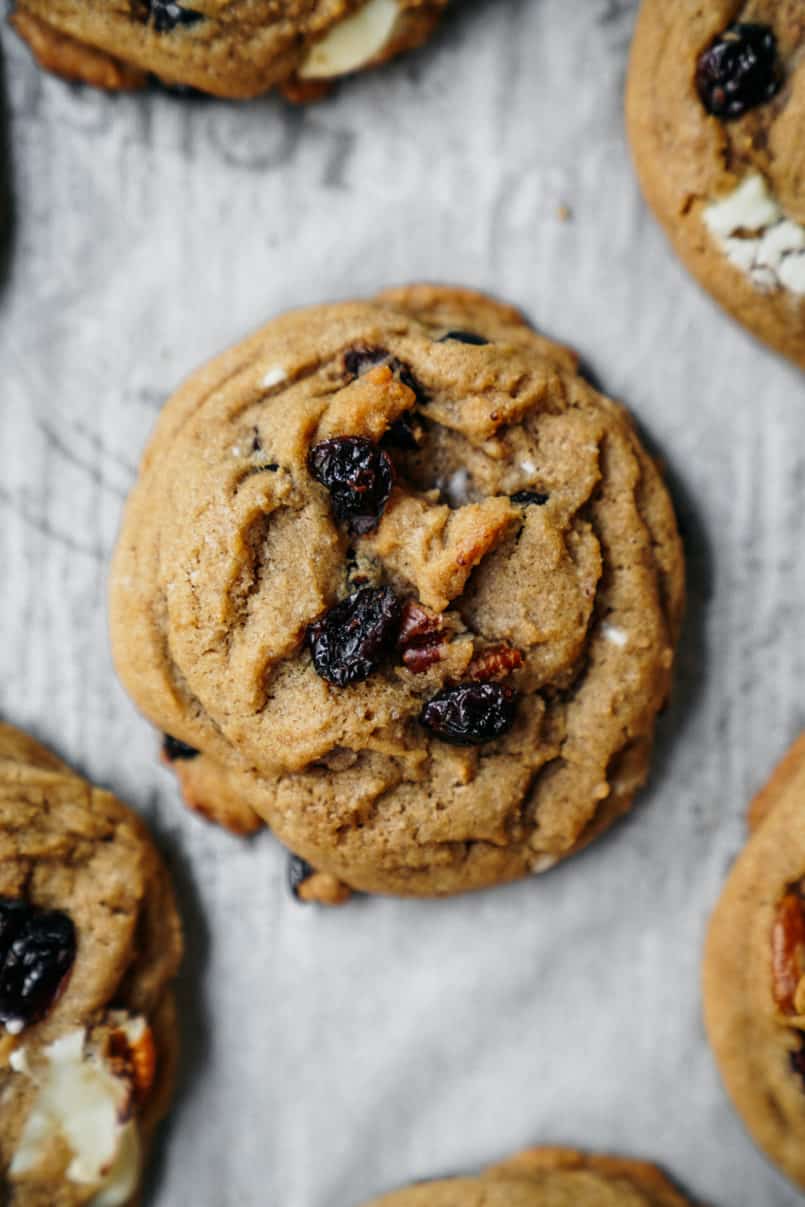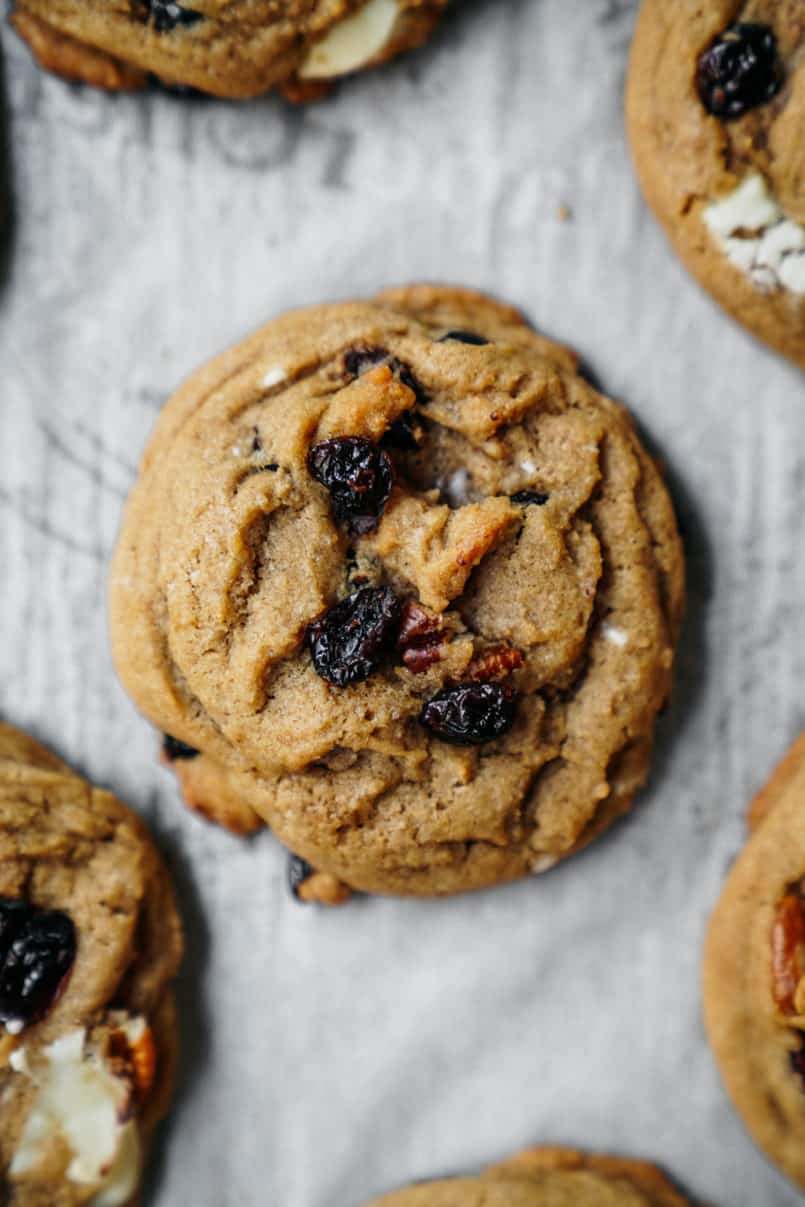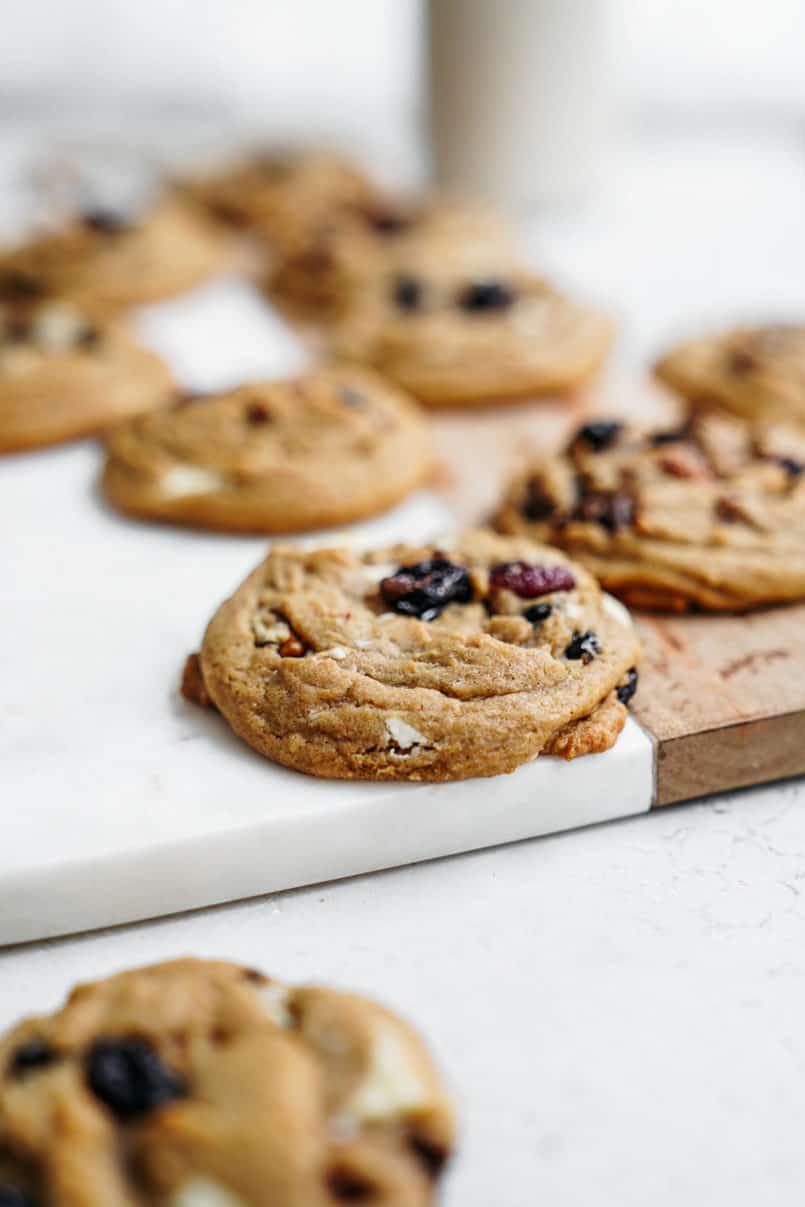 C Is For Cookie
Between the kale, lentils, and beans I really love mixing things up and creating recipes for sweet treats! Making "healthy" versions of desserts is great, but today I just really wanted some whipped butter and sugar. If you don't already know, I am a huge advocate of  listening to your body, and finding the balance between what you should eat most of the time and what you can have some of the time. These cookies definitely fall under the latter of the two–they are the perfect combo of crunchy, chewy, and sweet.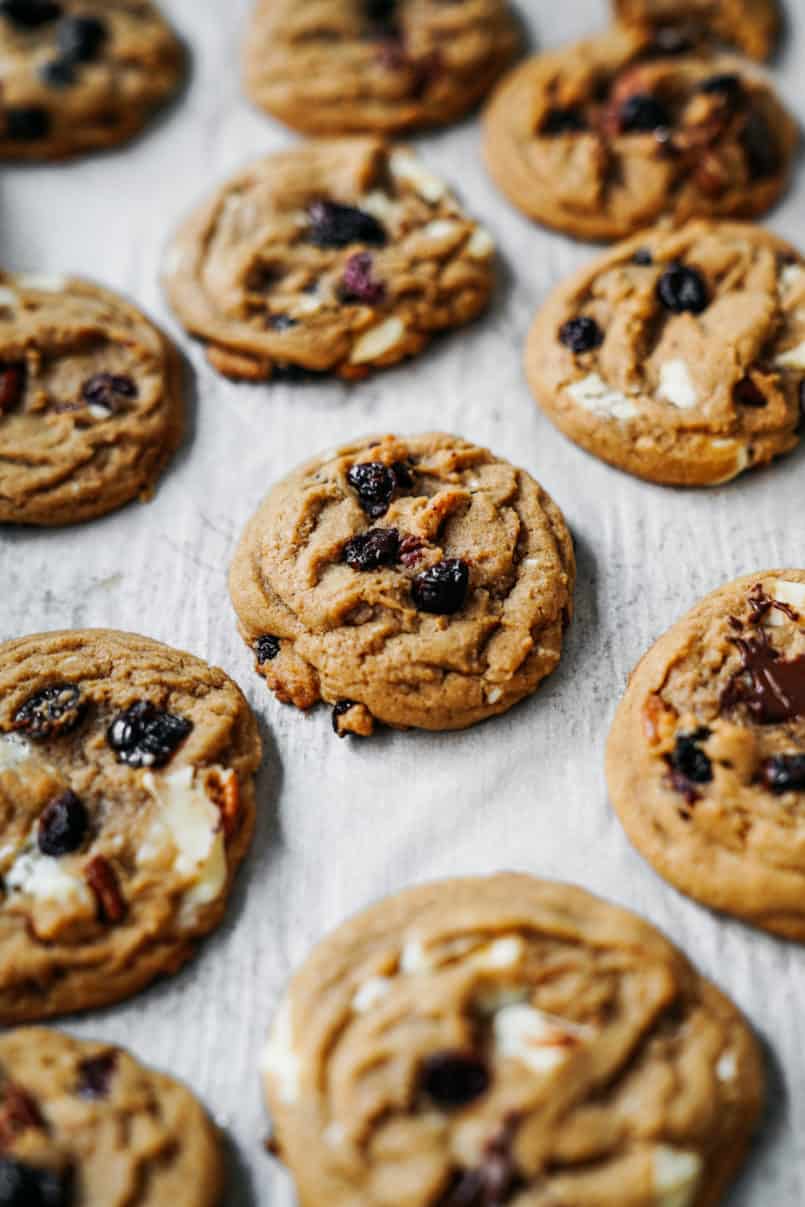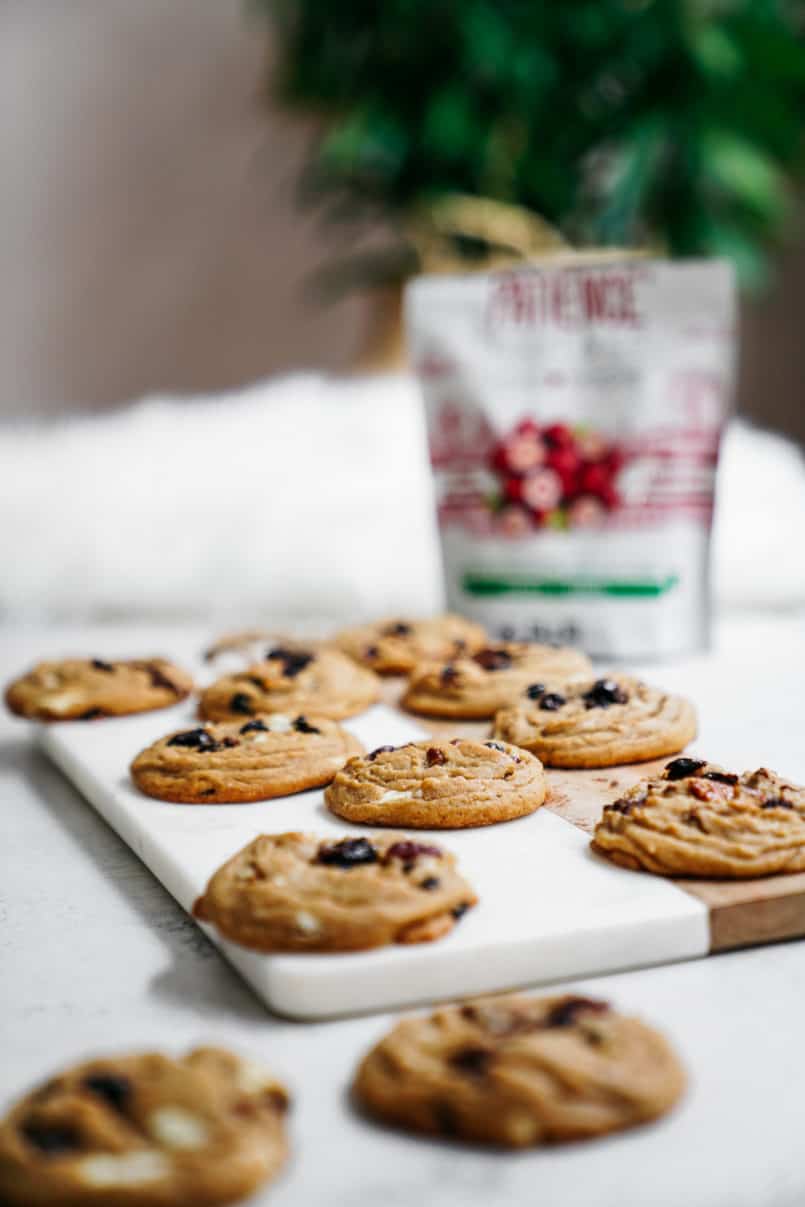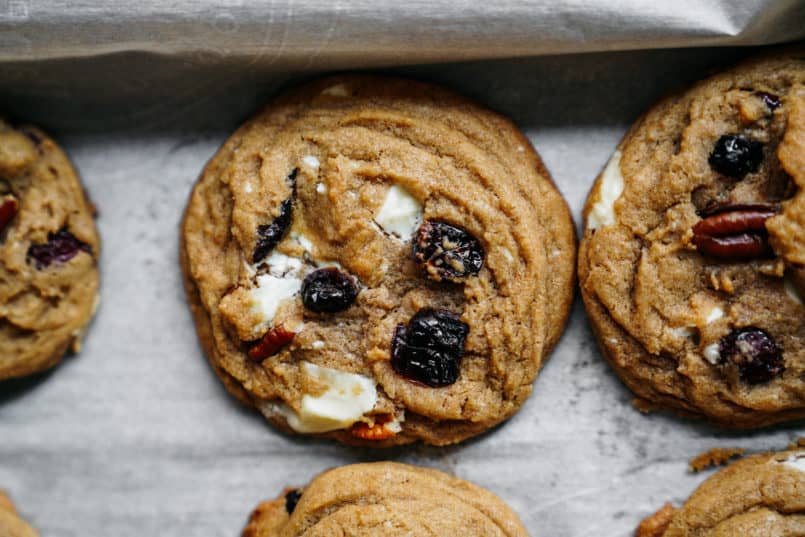 Trail Mix Filling
I really wanted to include a mix of flavours and textures to this traditional cookie recipe. You will love the mix of white and dark chocolate chips, and the balance of sweet dried cranberries with crunchy walnuts. For this recipe I used the Organic Patience Fruit & Co classic dried cranberries because they are sweetened with apple juice. Steeping the cranberries in apple juice before drying them is important because they still have tons of flavour and remain quite soft. A few benefits of snacking on these dried cranberries:
Source of Fibre
No Sulphites
Additive Free
Source of Polyphenols (micronutrients packed with antioxidants)
Get creative with the fillings in this cookie! You can switch out the chocolate or try a different dried fruit. Also mixing up the nut choice can give you different flavours and textures. This cookie is so easy to make you can't really go wrong, and they will taste amazing with any filling combination.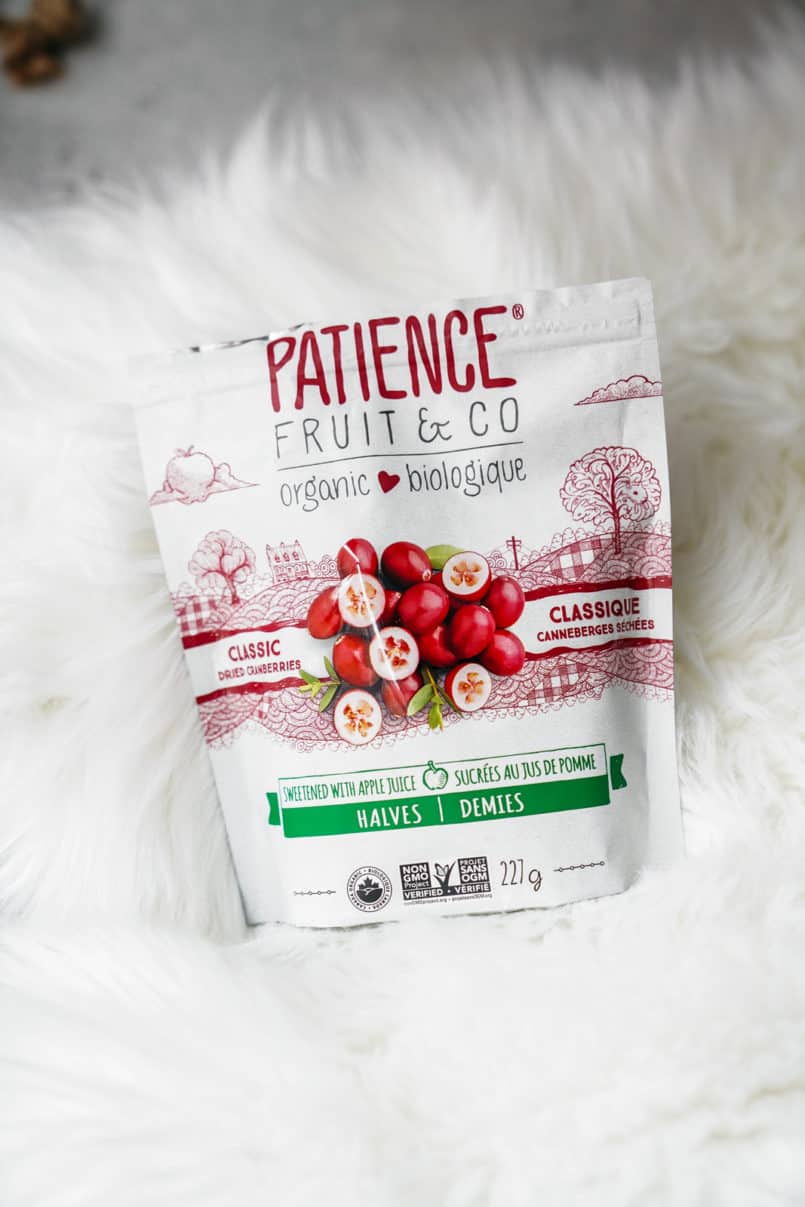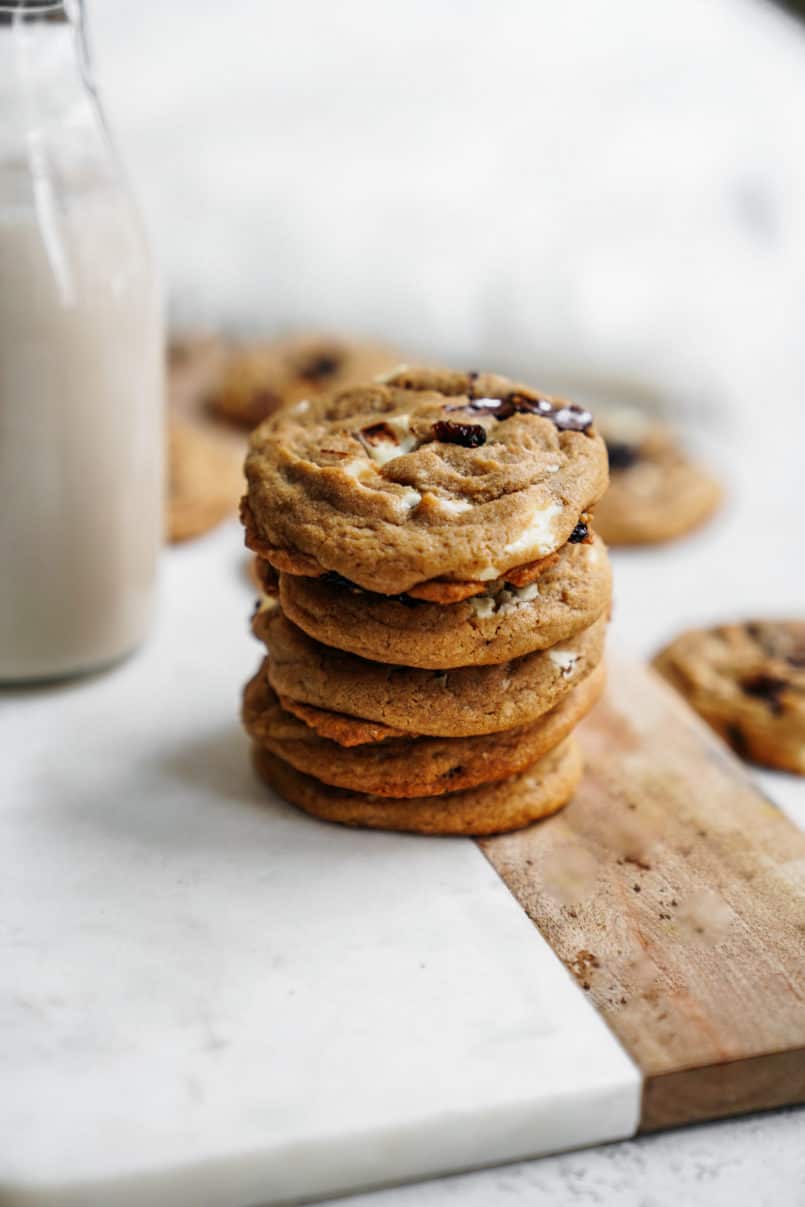 Baking and Storing
These one bowl plant-based cookies are so easy to whip up! They are a great, fresh out of the oven dessert for after dinner to share with guests, or fun activity for you and your littles. They only take about 10 minutes to prepare and another 12-13 minutes to bake. You can also prepare the dough and keep it in the fridge for later in the day or store in the freezer for another time. Because this cookie is so versatile it also makes a great gift–baked or as frozen dough! So share the love in the form of the most delicious, soft, and chewy cookie you've ever had!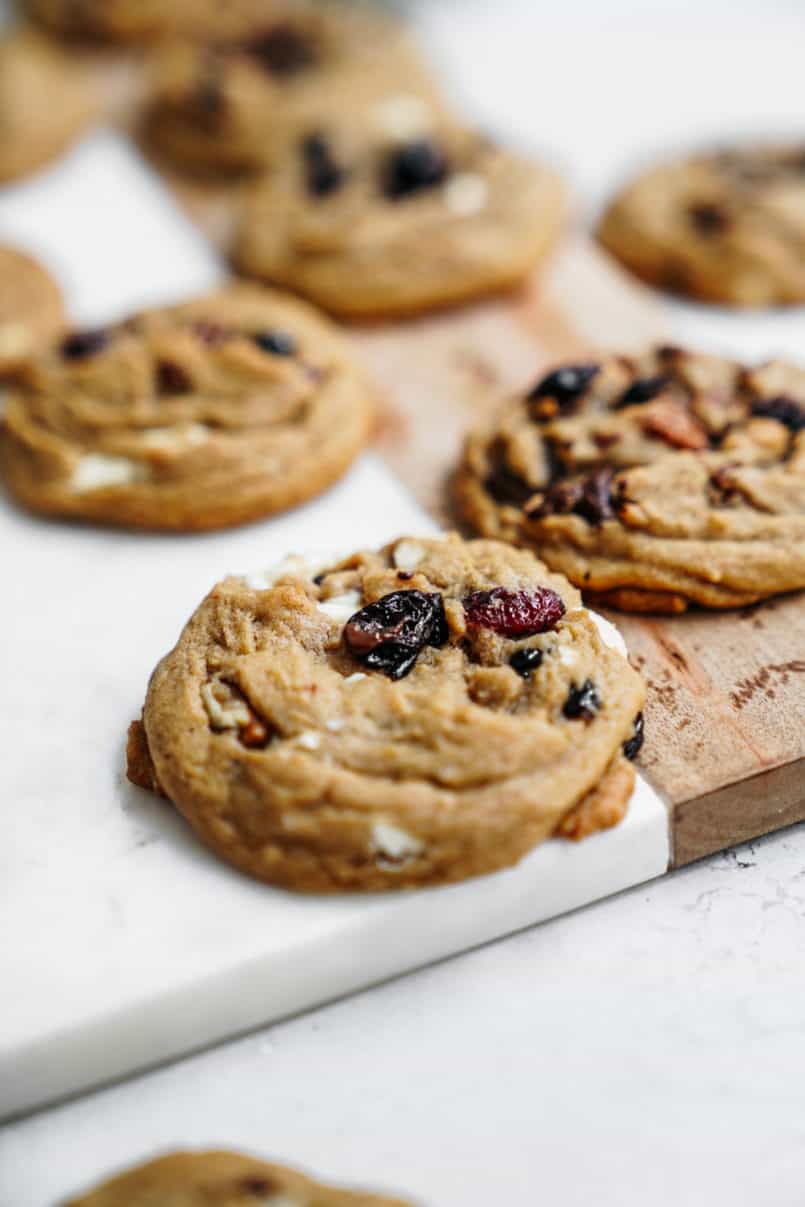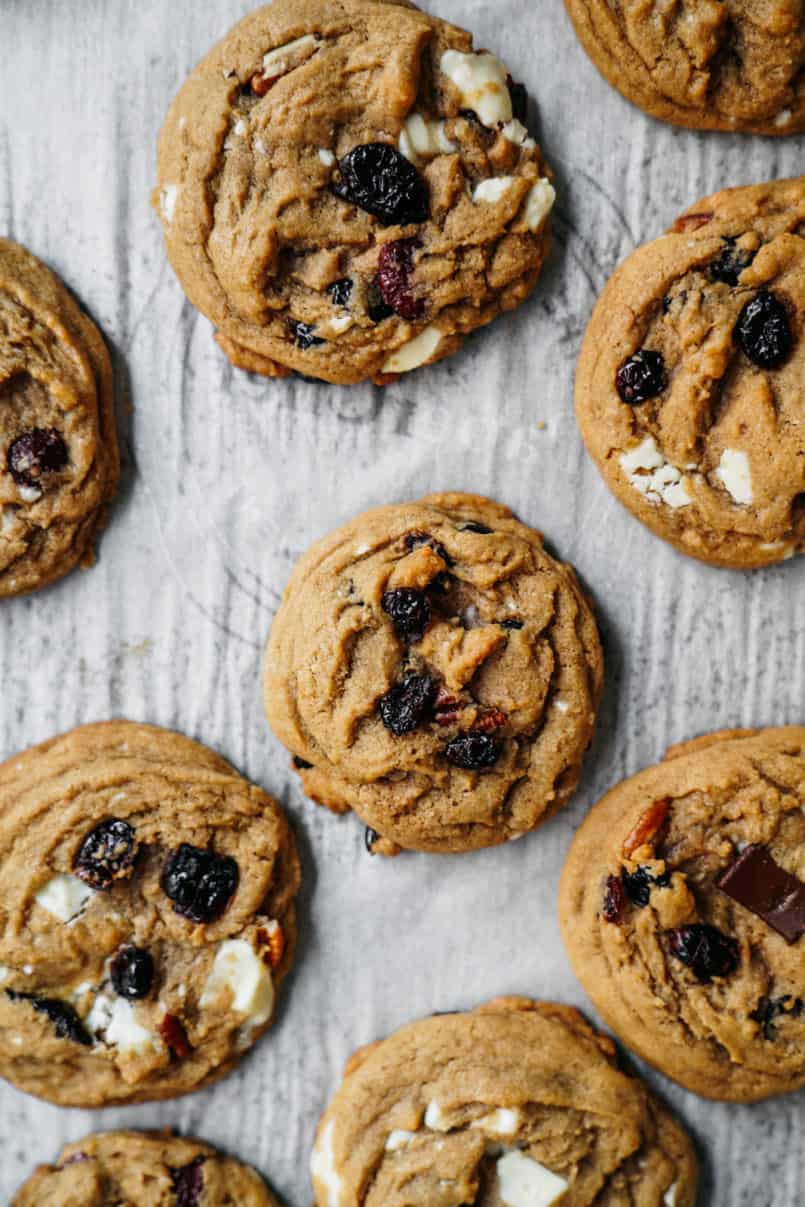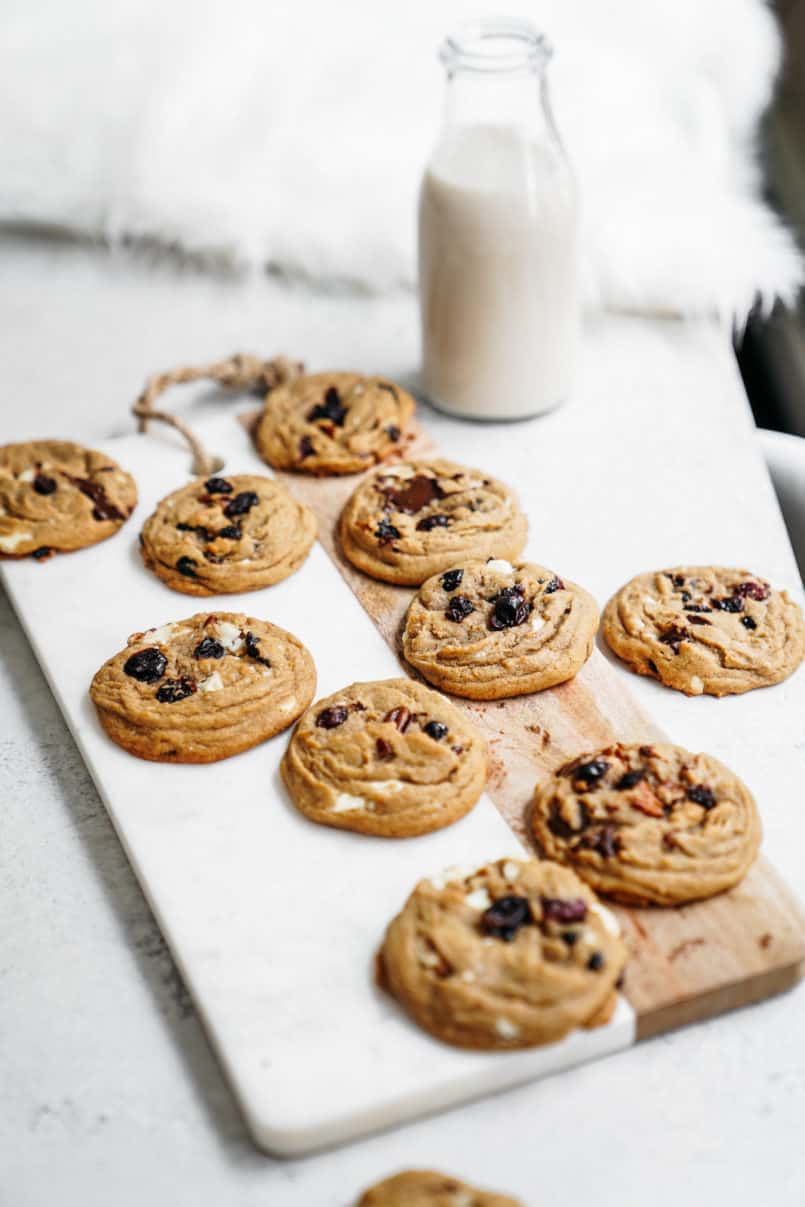 For some other delightful cookie recipes, make sure to check out my:
Check out the recipe below and don't forget to let me know what you think over at @foodbymaria and below in the comments! Tag #foodbymaria and #fearnotfoodisyourfriend so I can see all your beautiful recreations. Also be sure to save to your Pinterest board for safe keeping;)
Print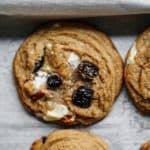 White + Dark Chocolate Cranberry Cookies
Author:

Prep Time:

10 minutes

Cook Time:

12-13 minutes

Total Time:

22-23 minutes

Yield:

12

Category:

Sweet Treat

Cuisine:

Vegan
---
Ingredients
1/2 cup plant based butter, room temperature
1 cup packed brown sugar
1 egg replacement – egg is fine if you're not plant based
1 tsp. vanilla
1 1/2 cup all purpose flour or GF flour
3/4 tsp. baking soda
1/2 tsp salt
1/4 cup vegan chocolate chips
1/4 cup vegan white chocolate chunks
1/4 cup chopped walnuts or macadamia nuts
1/2 cup Patience Fruit & Co. dried cranberries
---
Instructions
Preheat your oven to 350F and line a baking sheet with parchment paper.
In a bowl, combine the flour, baking soda and salt. Set aside.
In another bowl, whisk together the sugar,  and butter. Add the egg replacement and vanilla and whisk till smooth. Using a wooden spoon, stir in the dry ingredients, nuts and chocolate.
Using a small ice cream scoop to measure, place 12 scoops onto baking sheet.  Baker for 12-13 minutes.
Let cool on the cookie sheet and enjoy.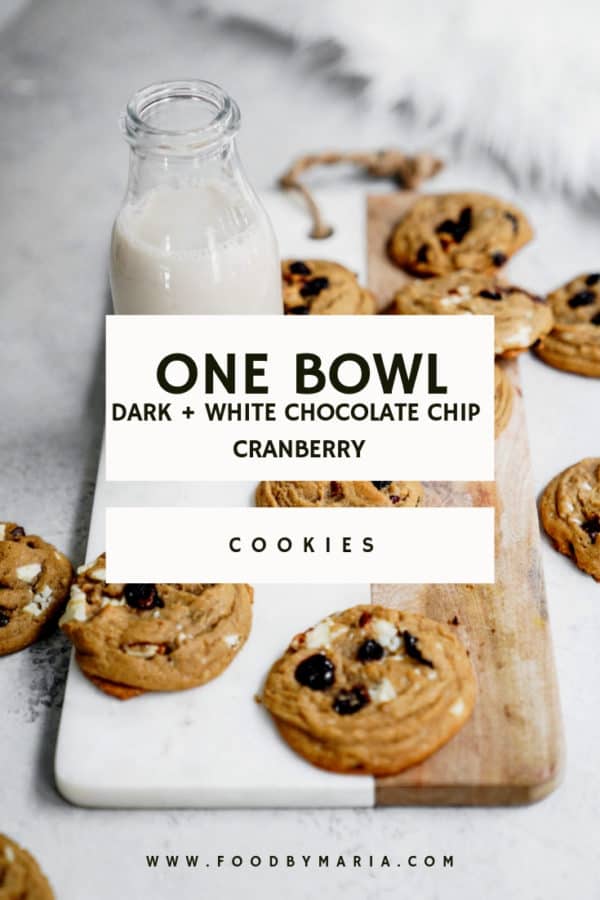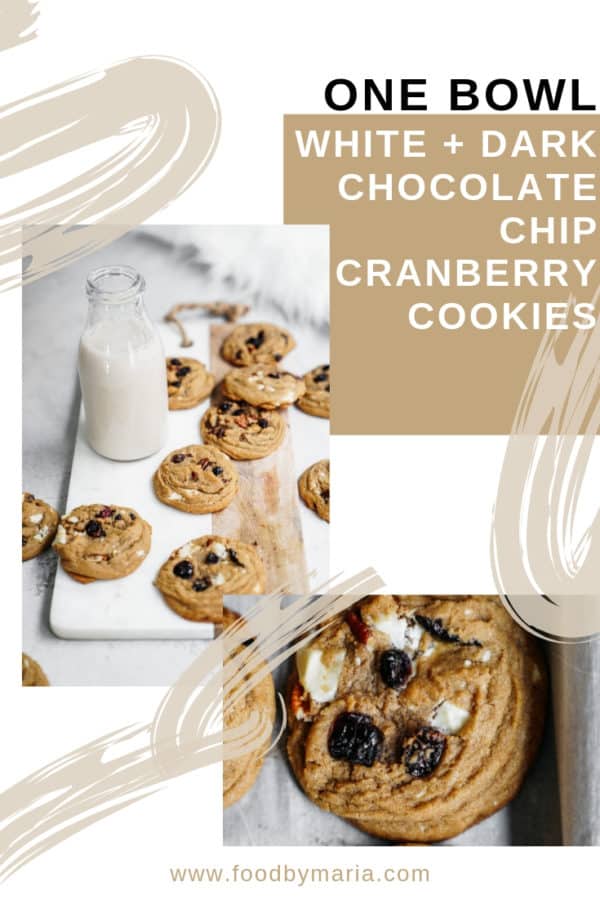 Disclaimer: This post was sponsored by Patience Fruit & Co.